Prioritize Safety When You Dig - Envirosight Releases New Trenching and Excavation Safety Poster for Sewer Workers
Sewer maintenance often requires trenching, but working in and around trenches is the most hazardous construction work out there. Take extra precaution to ensure your team can easily reference OSHA's mandatory guidelines with Envirosight's free Trenching and Excavation Safety poster.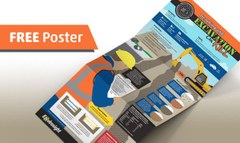 Envirosight, the market leader in underground pipeline inspection equipment, has released an illustrated poster focusing on trenching and excavation. According to the Occupational Safety and Health Administration (OSHA), one in five worker deaths are in construction, and cave-ins pose the greatest risk.
Following OSHA safety standards, this new resource is a visual aid outlining the rules governing sewer maintenance workers when digging a trench or excavating soil. The poster defines the meaning of "competent" individual, explains rock and soil types, and provides an easy-to-reference table of OSHA sloping and shoring requirements.
"Working in and around trenches is the most hazardous construction work out there," says Jake Wells, director of marketing for Envirosight. "And it's imperative that contractors, site leads and management adhere to safety standards at all times. Knowing the rules that govern the sewer industry can mean life or death for workers."
This infographic was developed as part of Envirosight's commitment to creating and sharing resources that benefit the water and wastewater industry.
Protect Yourself During Trenching and Excavation
Trenching is dangerous. Dozens of fatalities and hundreds of injuries occur each year at trenching and excavation sites. It's important to follow the OSHA standards that have been created to ensure your safety on the job.
Envirosight's latest safety poster focuses on trenching and excavation. It explains the various soil types, sloping and shoring requirements, and more! Request your
FREE copy
today.
About Envirosight LLC
Randolph, New Jersey-based Envirosight, LLC provides sewer cameras and other pipeline inspection solutions to municipalities, contractors, departments of transportation, and civil/environmental engineers. Envirosight is a full-service manufacturer of robotic sewer inspection crawlers, zoom cameras, push cameras, inspection reporting and asset management software, and inspection vehicles. All Envirosight technical employees hold NASSCO PACP certification.