Prioritize Safety When You Dig
Trenching is dangerous. Dozens of fatalities and hundreds of injuries occur each year at trenching and excavation sites. It's important to follow the OSHA standards that have been created to ensure your safety on the job.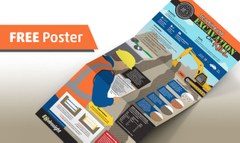 Sewer maintenance often requires excavation, but working in and around trenches is the most hazardous construction work out there. Take extra precaution to ensure your team can easily reference OSHA's mandatory guidelines with Envirosight's free Trenching and Excavation Safety poster.
Envirosight's latest safety poster focuses on trenching and excavation. It explains the various soil types, sloping and shoring requirements, and more!