Prime-Drilling GmbH supply equipment destined for Saudi Arabia
Company DCL Ltd based in Al-Khobar Saudi Arabia who earlier this year were congratulated for their outstanding achievement on the 2 no 3km world record undersea 24'' and 30'' pipeline crossings on the Berri Causeway project have increased their HDD rig fleet capacity by investing in a new Prime-Drilling PD 250/90 machine.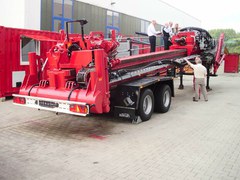 TT-UK responsible for sales and service in the Middle East region for the TT Group of Companies covering their range of Trenchless Technology equipment, and who were involved with DCL on a job-site late last year, introduced and recommended a visit to their Prime-Drilling HDD division in Germany following an exchange of technical discussions and indicated interest in December 2008.
During a European business trip earlier this year, Chairman, Mr Abdullah Natheer of DCL Ltd, witnessed first hand the design, quality and manufacturing facility of HDD specialist Prime Drilling, based in Wenden-Gerlingen, West Germany.
Discussions with Prime-Drilling's Technical Director Mr Frank Auringer and his team of highly qualified experienced engineers quickly led to Mr Natheer placing an official order for the supply of a PD-250/90 Trailer Mount unit.
Delivery to the Middle East is expected for August 2009 where future planned HDD crossings covering the Middle East regions are in progress. We wish DCL of Saudi Arabia continued success in the expansion programme of their HDD division.
Contact:
TT UK LTD.
10 Windsor Road
Bedford MK 42 9SU
PH.: +44 (0)1234.342.566
FAX: +44 (0)1234.352.184
E-Mail: info@tt-uk.com
Internet: www.tt-uk.com

Contact
TT UK LTD
42 9SU Bedford MK
Phone:
(+44) 1234 342566
Fax:
(+44) 1234 352184
E-Mail:
info@tt-uk.com
Internet:
To website