Price cut for UNITRACC services
Planning, constructing, operating, maintaining and rehabilitating underground infrastructures for supply and discharge requires a constantly growing level of technical knowledge of all people involved.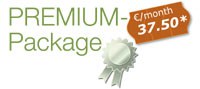 Knowledge Factory GmbH, Germany, provides this technical knowledge with the web-based portal
www.unitracc.com
- always taking into account their focus, previous knowledge as well as the current need of the individual user.
The good news is that from now on all that is provided for a real bargain price! UNITRACC has cut the prices for all UNITRACC services.
The new simple package system is a response to many customer requests. From now on, everybody will get the chance of full access to UNITRACC by booking the new PREMIUM package at the best rate ever.
The new PREMIUM package offers users all advantages they might need to extent their professional knowledge and to facilitate their daily tasks at work.
The PREMIUM package offers unrestricted access to all UNITRACC contents at only 37.50 EUR/month excluding value-added tax (VAT). Minimum contract duration is one year:

Media gallery with many 3D pictures, animations, videos, virtual construction sites and simulations.
Comprehensive reference books, practice-orientated construction site documentations and useful instructions.
Charts with technical data and facts.
Mini- and standard-tools to support you in engineering subtasks.
Numerous basic-lectures covering various topics of sewer and pipeline construction.
Further price reduction with our special bonus offer when booking the PREMIUM-package for 2 years or more.
Further information:
Knowledge Factory GmbH
Martina Buschmann
Konrad-Zuse-Str. 6
44801 Bochum, Germany
Phone: +49 234 5167-122
Fax: +49 234 5167 109
E-Mail: editorial@unitracc.com
Web: www.knowledge-factory.de