President Proposes $1.1 Billion in Fiscal Year 2021 for Bureau of Reclamation and They Receive $3.5 Million for 19 Projects That Will Inform Water Management Decisions
Budget continues Bureau of Reclamation's efforts to enhance water and hydropower reliability across the west. --- Projects in Arizona, California, Colorado, Idaho, Nevada, New Mexico, Oklahoma, Texas, Utah and Washington selected.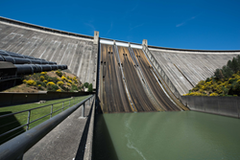 President Proposes $1.1 billion in Fiscal Year 2021 for Bureau of Reclamation
President Trump proposed a $1.1 billion Fiscal Year 2021 budget for the Department of the Interior's Bureau of Reclamation.
The budget builds on recent accomplishments and supports the Administration's goals of ensuring reliable and environmentally responsible delivery of water and power for farms, families, communities and industry, while providing tools to confront widening imbalances between supply and demand throughout the West.
"President Trump's 2021 budget request for the Department is about investing in our people and public lands and waters," said Secretary of the Interior David Bernhardt. "He is committed to the mission of conservation and creating more public access for Americans to fully enjoy our national treasures and landscapes. This budget is a critical step in the right direction and provides a path to restore commonsense in our budgeting process."
"This budget reaffirms the administration's commitment to water and power reliability in the West," said Commissioner Brenda Burman. "A significant portion of this request is dedicated to improving existing infrastructure—including dams and reservoirs; creating better water and power certainty for farmers, families and communities; and meeting our environmental stewardship responsibilities."
The proposed FY 2021 budget includes $979 million for Reclamation's principal operating account (Water and Related Resources), which will fund operation, maintenance and rehabilitation activities—including dam safety—at Reclamation facilities. This account will also fund planning, construction, water conservation, management of Reclamation lands and efforts to address fish and wildlife habitat needs.
It builds on the 2019 Biological Opinion and upcoming record of decision for the Central Valley Project in California by providing $33.0 million to implement the California Bay-Delta Program to help address California's current water supply and ecological challenges and $55.9 million for the Central Valley Project Restoration Fund to protect, restore, and enhance fish, wildlife, and associated habitats in the Central Valley and Trinity River Basins. It also provides $60.0 million to develop, evaluate, and directly implement Reclamation-wide policy, rules and regulation as well as other administrative functions.
Specific funding within the Water and Related Resources operating account will also build on 2020 spending to continue work on the Arkansas Valley Conduit project, which will provide an alternate clean drinking water supply to rural communities grappling with groundwater contamination issues.
The proposed budget includes $103.2 million in appropriations for extraordinary maintenance (XM) activities across Reclamation—part of a strategy to improve asset management and deal with aging infrastructure to ensure continued reliable delivery of water and power. Examples of XM expenditures include spillway repairs, modifying fish screens, hydroelectric generator maintenance and rewinds, and pumping plant gate maintenance and replacements. Additional XM items are directly funded by revenues, water and power customers, or other federal agencies (e.g., Bonneville Power Administration).
Reclamation provides services through many of its projects and programs to fulfill its trust responsibilities to tribes. The FY 2021 budget request includes a total of $112.1 million for Indian water rights settlements. This includes $43.6 million for the Navajo-Gallup Water Supply Project to continue important construction work; $12.8 million for the Crow Tribe Water Rights Settlement; $4.0 million for the Aamodt Litigation Settlement; and $25.9 million for the Blackfeet Water Rights Settlement.
Other settlements include the Nez Perce Settlement within Columbia and Snake Rivers Salmon Recovery Project ($5.6 million), the San Carlos Apache Tribe Water Settlement Act ($1.6 million), the Ak-Chin Indian Water Rights Settlement Act ($15.3 million) and the Colorado Ute Settlement Act within the Animas La Plata Project ($3.4 million).
The FY 2021 budget, through programs such as the Lower Colorado River Operations Program ($37.6 million) and the Central Valley Project ($141.5 million), will continue efforts in both areas to find long-term, comprehensive water supply solutions for farmers, families and communities in the Colorado River Basin and California. It builds on the incredible work of Colorado River partners and stakeholders to implement drought contingency plans in 2019 and funds federal government obligations under those DCPs.
Other highlights of Reclamation's FY 2021 budget proposal include:
$107.1 million for the Dam Safety Program to effectively manage risks to the downstream public, property, project and natural resources and provide for risk management activities at Reclamation's high and significant hazard dams.
$30.3 million for ongoing authorized rural water projects to deliver water supplies to defined rural communities. This includes projects that benefit tribal nations such as the Mni Wiconi Project in South Dakota, the Pick Sloan-Missouri Basin Program – Garrison Diversion Unit in North Dakota, the Fort Peck Reservation/Dry Prairie Rural Water System in Montana, and the Rocky Boy's/North Central Rural Water System in Montana.
$2.9 million for the Desalination and Water Purification Research Program to support new and continued projects in three funding areas -- laboratory scale research studies, pilot-scale testing projects and full-scale testing projects.
$11.0 million for the Science and Technology Program to support continued science and technology projects; water and power technology prize competitions; technology transfer; and outreach activities that address critical water and power management issues.
$27.3 million for the Site Security Program which includes physical security upgrades at key facilities, guards and patrols, anti-terrorism program activities and security risk assessments.
$18.2 million for the WaterSMART Program to support Reclamation's collaboration with non-federal partners in efforts to address emerging water demands and water shortage issues in the West, as well as promote water conservation and improved water management.
Bureau of Reclamation awards $3.5 million for 19 projects that will inform water management decisions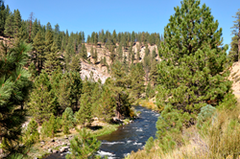 The Bureau of Reclamation selected 19 projects to receive $3.5 million in WaterSMART Applied Science Grants to develop tools and information that will inform and support water management decisions. These projects will be matched by more than $4.5 million, non-federal cost-match, supporting a total project cost of $8 million.
"Water managers need the most updated information to ensure they are making the best water management decisions," said Reclamation Commissioner Brenda Burman. "Applied Science Grants fund tool development and studies that help make western water more reliable."
The projects selected are as follows:
City of Sierra Vista (Arizona), Web-based Hydrologic Information Portal for the Upper San Pedro Basin, $99,000
Mojave Water Agency (California), Integrated Model Development and Alternatives Evaluation, $150,000
Pala Band of Mission Indians (California), Pala Tribe Innovative Practices in Hydrologic Data Acquisition and Use for Water Management, $55,120
Point Blue Conservation Science (California), California Central Valley Wetlands Water Budget Tool Development, $150,000
Rancho California Water District (California), Groundwater Modeling Enhancement for the Murrietta-Temecula Groundwater Basin, $195,000
University of California Agriculture and Natural Resources (California), A California Crop Coefficient Database to Enhance Agricultural Water Demand Estimations and Irrigation Scheduling, $299,627
University of California, Merced (California), Defining the Rain-Snow Transition Zone in the Northern Sierra Nevada, $299,976
Colorado Water Conservation Board (Colorado), Arkansas River Colors of Water and Forecasting Tool, $150,000
The Henry's Fork Foundation (Idaho), Predictive Hydrologic Modeling and Real-Time Data Access to Support Water Resources Management, $273,211
Idaho Power Company (Idaho), Precipitation Modeling Tools to Improve Water Supply Reliability, $300,000
Desert Research Institute (Nevada), Quantifying Environmental Water Requirements for Groundwater Dependent Ecosystems, $296,740
New Mexico Institute of Mining and Technology, New Mexico Water Data Initiative and Regional Pilot Project for Improved Data Management and Decision Support Tool in the Lower Pecos Valley, $300,000
Office of the State Engineer/Interstate Stream Commission (New Mexico), Developing a Projection Tool for Rio Grande Compact Compliance, $141,272
Oklahoma State University (Oklahoma), Improving Seasonal Streamflow Forecasts for Irrigation Districts by Incorporating Soil Moisture Information Derived from Remote Sensing, $88,476
Oklahoma State University (Oklahoma), Applying Unmanned Systems for Water Quality Monitoring, $150,000 Texas Water Trade (Texas), Modeling Aquifer Properties in the Contributing Zone of Comanche Springs, $150,000
Gulf Coast Water Authority (Texas), Enhancement of Water Availability Models of the Lower Brazos Basin $30,000
Utah State University (Utah), A Platform Toward an Early Warning System for Shortages in Colorado River Water Supply, $91,078
Washington State University (Washington), Quantifying the State of Groundwater in the Columbia Basin with Stakeholder-Driven Monitoring, $299,940
Learn more about all of the selected projects at https://www.usbr.gov/watersmart/appliedscience/.
About WaterSMART
Through WaterSMART, Reclamation works cooperatively with states, tribes and local entities as they plan for and implement actions to increase water supply reliability through investments to modernize existing infrastructure and attention to local water conflicts. Visit http://www.usbr.gov/watersmart to learn more.
Contact
Bureau of Reclamation
6th & Kipling, Bldg 67
CO 80225 Denver
United States
Phone:
+1 (385) 228-4845
Internet:
To website