Precast Concrete Building Delivers Winning Solution for Marsh Run Water Project
Easi-Set, the most used prefabricated, all-precast concrete building system in the United States, helps solve water filtration issue at Virginia manufactured home community.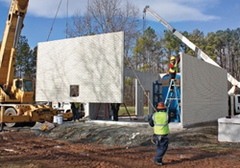 It's not a secret that the water and wastewater industries often utilize pre-engineered concrete buildings for its treatment, pumping and filtration needs. What should not be kept underground any longer are the many advantages that precast concrete buildings offer.
Smith-Midland Corporation, a precast concrete producer and member of PCI Mid-Atlantic, a chapter of the Precast/Prestressed Concrete Institute (PCI), is a licensed producing plant for Easi-Set buildings – the most used prefabricated, all-precast concrete building system in the United States.
A recent water filtration project at Marsh Run, a manufactured home community in Bealeton, Virginia, required the expertise of Smith-Midland and the Easi-Set precast building solution to address a serious water quality issue.
PROJECT OVERVIEW
Marsh Run learned that its well water contained high levels of arsenic. To remedy the problem, a new water filtration system housed in an Easi-Set building was installed. Smith-Midland manufactured and installed the 20'x30' structure.
General contractor for the project, Sydnor Hydro, Inc., selected Smith-Midland because of their long working history.
"We have worked with Smith-Midland many times over the years," said John Beckstoffer with Sydnor Hydro. "They are quick, efficient and hold to their schedule."
George Sharikas, sales manager with Smith-Midland, said its pre-designed features and quick installation time led to choosing the Easi-Set building for Marsh Run.
The initial building installation was completed in less than 2 days, with pipe installation and filtration connections taking place over the next few weeks. The building stores 4 filters connected to 2 wells.
Local Easi-Set licensed producers like Smith-Midland work closely with customers nationwide to ensure the resulting concrete building meets their project requirements.
THE EASI-SET PRECAST CONCRETE SOLUTION
Sharikas believes precast concrete buildings often sell themselves.
"Customers can request design information and pricing. Once approved and made, they have a building up and erected in 1-2 days," Sharikas shared.
Easi-Set buildings like the one at Marsh Run are site-assembled on a gravel pad with a precast floor or on a poured concrete slab. The Marsh Run building was designed using an Easi-Span roof. These roofs are the largest clear span all-concrete roofs on the market. They provide for the only expandable (in 10' sections) concrete building system up to 50' x 250' with the option of multi-story heights.
Sydnor Hydro's Beckstoffer turns to precast concrete buildings more often than other building materials because concrete looks better and lasts longer.
"Concrete buildings don't rust, and they don't break like a frame building can," he said. "Inside, you generally have to install plywood over a frame building. Over time, that just doesn't look as good as concrete."
Easi-Set precast concrete buildings will not rust, warp, corrode, rot or burn. They outperform all other materials in performance and lifecycle value. The weather-tight structures are designed for any climate zone across the country, and additional weatherproofing features are available.
Frost protection, for instance, could safeguard the integrity of plumbing lines in colder climates. Adding these and other features will not put a project over budget. Easi-Set buildings cost less than site-built construction. Easi-Set buildings have undergone UL 752 testing to be designated as Level 5 bullet-resistant buildings. They also have a standard fire rating of 1.5 hours with additional protection available; earthquake rating to Seismic Zone Category C; and hurricane resistance up to 150-mph wind loads. Impact resistance is improved with post-tensioning that increases average compressive strengths.
Additional details and photos for Smith-Midland's Marsh Run project are available on the PCI website.
PROJECT AT-A-GLANCE
Client: Marsh Run Manufactured Home Community
Location: Bealeton, VA
General Contractor: Sydnor Hydro, Inc. (Richmond, VA)
Precast Concrete Producer: Smith-Midland Corporation (Midland, VA)
20' x 30' Easi-Set Precast Concrete Building
Easi-Span Roof System
ABOUT PCI MID-ATLANTIC
PCI Mid-Atlantic, a chapter of the Precast/Prestressed Concrete Institute (PCI), is a professional marketing organization committed to the growth and greater profitability of the Precast Industry in the Mid-Atlantic region. It is comprised of prestressed/precast producer member firms located throughout the Mid-Atlantic States, including New York, New Jersey, Pennsylvania, Delaware, Maryland and Virginia. PCI Mid-Atlantic also has over 50 associate member companies that produce a variety of concrete industry related products.
Contact
Smith-Midland
Ashley Smith
President and CEO
5119 Catlett Rd
VA 22728 Midland
United States
Phone:
+1 540-439-3266
Fax:
+1 540-439-1232
Internet:
To website