PowerMon Ionometer - applicable in municipal and industrial sewage treatment plants
The legally prescribed limit value in the outlet of municipal and industrial sewage treatment plants is reliable monitored by the Bran+Luebbe PowerMon Ionometer with high precision.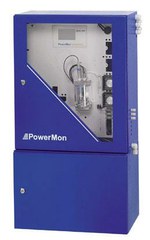 The PowerMon offers 6 on-line measuring points for the potentiometric measurement method. Beside the precise identification and measurement of ammonium and fluoride in waste water many other applications from our extensive method book are possible.
In addition to an easy and comfortable operation, the quick data transfer and the exact measuring results, connections of several external, physical measuring probes are also possible. For the measurement of various parameters, such as oxygen, pH, redox, conductivity the connection of suitable sensors is possible. For these sensors the PowerMon Ionometer takes over the function of a measuring transducer. A concurrent processing of the separate measuring results among each other is possible as well.
Another important customer advantage is the full network capability of the PowerMon Ionometer. The direct connection via all established interfaces, as for example LAN, ProfiBus, modem and USB, turns the PowerMon Ionometer to the leading network capable on-line monitor at the market. The remote diagnosis by connecting the PowerMon to the telephone system or a computer network is therefore a child's play.

Contact:
Bran+Luebbe GmbH, An SPX Brand
Werkstraße 4
22844 Norderstedt (DE)
E-Mail: info.germany@prozessequipment.spx.com
Internet: www.bran-luebbe.de