PORR consortium to build tunnel in Świnoujście
The contract for the construction of the Świnoujście tunnel was signed today in the presence of Polish Prime Minister Mateusz Morawiecki. The project will be implemented by a consortium consisting of PORR, Gulermak and Energopol-Szczecin. The contract value is around EUR 150m and the project is expected to take 48 months to complete.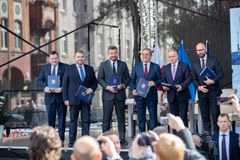 The total length of the project is approximately 3.2 km. This includes a 1.44 km TBM-excavation in the slurry shield procedure.
The breakout diameter of the tunnel will be 13.5 m. A two-way roadway will be constructed with traffic lanes with a width of 3.5 m and evacuation niches will be built using ground freezing. The project will be implemented by the consortium as a Design & Build contract.
"The Świnoujście tunnel is one of our key infrastructure projects in Poland. In cooperation with our PORR colleagues from Poland and Austria as well as the experienced experts from Gulermak and Energopol-Szczecin, we will demonstrate our construction expertise and innovative strength", said Karl-Heinz Strauss, CEO of PORR.
Once the tunnel is completed in autumn 2022 it will provide a direct connection between Uznam and the Polish mainland. In addition, the journey time will be reduced to just a few minutes as well as significantly improving the connection to Polish holiday areas in West Pomerania.
Świnoujście relies on the professional skills and expertise of the PORR consortium
"The Design & Build project in Świnoujście requires a high degree of flexibility and expertise in technical solutions. The contract awarded to our consortium once again confirms the excellent reputation that PORR enjoys in Poland," said Piotr Kledzik, President of the Board of PORR S.A. "The residents of Świnoujście and the entire region will benefit substantially from the improved transportation infrastructure."
The Polish city of Świnoujście extends over the eastern part of the island of Uznam as well as over the islands of Wolin and Karsibór. Uznam is home to an administration center and service center as well as a seaside resort with tourist and health resort facilities. About 80 % of the inhabitants of Świnoujście live on Uznam.
Uznam and Wolin are separated by the Świna river, an arm of the Baltic Sea. Traffic between the islands is currently carried out via ferry connections across the Świna. Due to the high capacity utilisation of the ferry crossings, waiting times - especailly during the holiday season - can be up to several hours. Fluctuating weather conditions make ferry operations even more difficult.
| | |
| --- | --- |
| Project | Świnoujście tunnel |
| Customer | City of Świnoujście |
| Contractor | Consortium: PORR S.A., PORR Bau GmbH, Gulermak Agir Sanayi Inşaat ve Taahhut A.S and Energopol-Szczecin S.A. |
| Project type | Design & Build |
| Deadline | 48 months |
| Tender volume | approx. EUR 150m net (PLN 645m net) |
Contact
PORR AG
Sandra C. Bauer
Head of Corporate Communications, Corporate Spokesperson
Absberggasse 47
1100 Vienna
Austria
Phone:
+43 50 626-3338
E-Mail:
sandra.bauer@porr.at
Internet:
To website