Poland drives HOBAS pipes round the bend
An impressive pipe project in Poland's capital Warsaw is expected to be completed mid summer 2008: To relieve the down-town sewer collector and to transport wastewater to the new treatment plant "Czajka", astounding 3.3 km large diameter (up to OD 2160 mm) HOBAS CC-GRP Jacking Pipes are installed by remote controlled jacking (microtunneling) and were literally driven around several bends.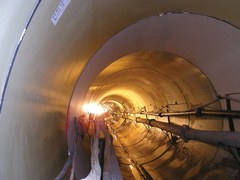 Trenchless technologies are the most convenient and reasonable way to install a pipeline in a city where traffic and buildings above ground but also dense infrastructure below ground need to be considered. Numerous microtunneling projects have been successfully implemented with HOBAS CC-GRP Jacking Pipe Systems in Warsaw before. These projects along with project requirements such as installation depths up to 10.6 m convinced the municipality, waterworks and designer to once again opt for a trenchless solution. Furthermore, the installation method per se saved on pumping costs as the line was partly established up to 2 m below groundwater level.
The competition was tight and material prices for sure did not speak for GRP. HOBAS undoubtedly convinced in different respects such as offering extensive experience, know-how and reliability in curvilinear jacking. As so often, a second more thorough glance showed that the higher material costs were considerably outweighed by savings through, for instance, a 30% reduction of extracted soil thanks to smaller consistent outer diameters of the comparably thin walled CC-GRP Pipes. Construction sites and construction equipment could be kept small and to a minimum, for pipe size and weight surely mattered also in this case. Fast assembly and small curve radii were further cost saving advantages that spoke for HOBAS, not to mention the high corrosion resistance, long life expectancy of the products, low maintenance costs, etc.
The 3.3 km line runs in 4.7 and 10.6 m depth and includes 6 curves with 200, 300 and 600 m radii, the longest curve being 124 m at an average gradient of 0.063%. Sand and clay are the main soil components on the route and a part of the pipeline is assembled below groundwater level.
HOBAS Poland delivered CC-GRP Jacking Pipes in 1 m, 1.5 m and 3 m lengths for the different radii and straight sections. Since the absolutely leak-tight flush HOBAS Couplings incorporate a certain angular deflection, smaller curve radii are achieved by utilizing shorter pipe sections. Although not absolutely necessary, HOBAS Experts recommended the use of wooden rings between the pipes in curved sections in order to guarantee a perfect fit. An intermediate station that was run in the curve was a novelty that required a special design for the consequent station as for the steel pipe of the intermediate station itself.
Challenges such as a clearance of only 0.6 m between the pipeline and subway were easily overcome. Precise planning and the relatively small outer diameter of HOBAS Pipes were imperative for this remote controlled jacking project. A single jacking drive over 500 m was the technical highlight of the project. No wonder: The close and well functioning cooperation between HOBAS Organizations is indispensable in every regard and allows drawing from a large pool of technical expertise for top quality customer solutions.
For further information:
HOBAS Engineering GmbH
Alexandra Dobnigg, Marketing - Graphics & Press,
Pischeldorfer Straße 128
A-9020 Klagenfurt
Austria
Tel.: + 43 463 482424-38
Fax: + 48 463 482121
Email: alexandra.dobnigg@hobas.com
Internet: www.hobas.com
Contact
HOBAS Engineering GmbH
9020 Klagenfurt, Österreich
Phone:
+43.463.482424
Fax:
+43.463.482121
E-Mail:
info@hobas.com
Internet:
To website