Plastic Pipes XVII to award best presentation prize
The organizers of Plastic Pipes XVII conference and exhibition have decided to award a Best Presentation Prize to the most significant contribution in the field of plastic pipe technology. Nominations for the award will be judged from the 130 presentations delivered during the next event in Chicago's Swissôtel, 22 -24 September, 2014.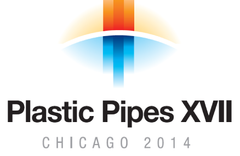 Stephen Boros, VP Engineering for Pipelines Plastics, LLC and chairman of the organizing committee for the event explains: "The history of plastic pipes is founded on the versatility and innovation that plastics provide and the ability to take that potential to create long-term solutions. We want to recognize the inspiration that turns raw material into plastic piping systems and the presentation skills that communicate it effectively."
With such a high number of relevant presentations, Boros admits that the task of picking a winner will not be easy. Plastic Pipes XVII is split up into four sections namely solutions, applications, material testing & performance and lastly, market issues. Each member of the Organizing Committee will submit their choices based on theme, innovation and quality of presentation.
Zoran Davidovski, Vice President for Marketing & Technologies of the Pipelife Group adds: "If I were to look back over the last thirty years and single out notable conference presentations, my personal choice would probably be the introduction of PE100, an industrial application in Trinidad for the distillation of methanol, infiltration units for storm water collection, the European Sustainable Municipal Pipes Study, TEPPFA's recycling project in the EU and possibly one of the many ISO standards that have embraced our industry. The choice is extremely difficult."
A review of abstracts already accepted by the conference reveals a wide scope and scale from which the jury will have to judge. It ranges from a new approach to the handling of Butt Fusion of two meter diameter HDPE pipe to a project in the State of Victoria in Australia where a plastic pipeline has been used to divert a river and thus avert flooding of infrastructure, mines and power supply. Also of interest is a new X-ray technique from Sweden for testing PE water pipes and that promises to stretch their life expectancy up to 150 years. Similarly a new way to cut and chamfer PVC pipes without creating waste during production has been developed in Italy.
A draft program has now been posted to the conference website at http://www.ppxvii.org
Over 500 participants from 40 countries are expected to attend what is described as the only global conference and exhibition of its kind.
Contact
Congress Ltd
Eva Balassa
Szilágyi Erzsébet fasor 79
1026 Budapest
Hungary
Phone:
+36 1 212 00 56
Fax:
+36 1 356 65 81
E-Mail:
ppxvii@congress.hu