PLASTIC PIPE Market boomingin China says conference
The plastic pipe business in China is booming according to the organizers of the recent Fourth China International Plastic Pipe Conference held in Shanghai. This forum was attended by 338 participants representing 266 companies from China and around the world.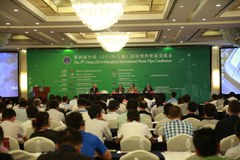 Zoran Davidovski, spokesman for the Plastic Pipe Conference Association (PPCA) that organised the event in conjunction with the China Plastics Piping Association (CPPA) explains: "Capital investment for new construction and infrastructure development in China is improving the physical health and economic wealth of its people. It is a fine mexample of how markets in Asia are using the power of modern plastic pipe technology to foster economic growth by replacing antiquated pipe networks."
"Major utility services that provide drinking water, gas, sewer and telecommunication services in the region are providing greater quality services to their customers. Conference delegates have signalled a high level of optimism about the way the plastic pipe industry is developing. Equally spurred on by the phenomenal growth in the construction sector, the market has opened up to more sophisticated and innovative solutions such as no-dig renovation and rehabilitation of old pipe networks. "Whilst GDP growth has stabilised over the last few years, our technology continues to
provide an economic driver as well as raise people's living standards. China is the world's largest consumer and manufacturer of plastic pipes. Industrial output will exceed 14 million tons this year." A total of 28 technical and commercial presentations were delivered to the Shanghai conference. Of the 338 participants, 315 delegates were from China. Participation
increased slightly compared to the previous event hosted during 2013 in Xi'an.
CALL FOR PAPERS-PLASTIC PIPES XVIII
The Plastic Pipes Conference Association (PPCA) will host Plastic Pipes XVIII Conference and Exhibition in Berlin's InterContinental Hotel on 12 – 14 September 2016. A call for papers has been issued and abstracts should be submitted in the English language to the conference organizers by the 25 November 2015. Organizers expect a high take up of exhibition accommodation. Major industry names already allocated space include TOTAL, KRAUSSMAFFEI, KIWA, SABIC, ADESCOR, BOROUGE/BOREALIS, MOL, BAERLOCHER, ROLLEPAAL, SASOL CHEMICALS (USA) LLC and EXOVA.
Also important to note that conference papers for Plastic Pipes XVII held in Chicago in September 2014 are freely available and have been posted to the PPCA website on www.plasticpipesconference.com.
Information for conference registration, papers, exhibition and sponsorship can be found at www.ppxviii.com.