Pipeline Renewal Technologies White Paper Explains CIPP Materials and Processes
Pipeline Renewal Technologies (PRT) released a white paper discussing the components and complexities of cured-in-place-pipe (CIPP) liners. CIPP involves curing liners directly inside the pipe. This method repairs damaged pipes with a liner that, essentially, becomes a new, jointless pipe within a pipe.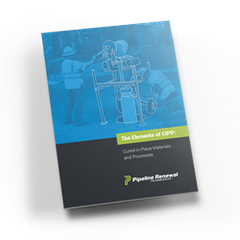 CIPP sewer rehab has seen remarkable technological advancements since its invention in 1971. Over time, the options for resin, liner material and cure methods have proliferated, each offering different benefits in terms of ease-of-installation, cost, strength and safety.
The evolution of the technology has made CIPP the preferred pipeline rehabilitation method utilized by municipalities across the country.
"CIPP is the most popular trenchless rehabilitation method because it is efficient and enhances liner performance," says Todd Morence, Midwest Territory Account Manager for PRT. "But, there are many options and combinations to choose from and each produces a different result.
Anyone new to CIPP can quickly get overwhelmed. This paper outlines some of the variables and how the combination of materials and processes affect the strength and longevity of the liner."
Download a copy of this
white paper
free of cost. This white paper was created as part of Pipeline Renewal Technologies' commitment to produce and share resources for the pipeline rehabilitation industry.
About Pipeline Renewal Technologies
Pipeline Renewal Technologies is an Envirosight company focused exclusively on the pipeline rehabilitation market. The company offers technologies for no-dig structural lateral connection; drain and mainline cutting; durable point repair; video drain flushing; and process measurement. A strong emphasis on support makes Pipeline Renewal Technologies the partner of choice for municipal contractors looking to gain a competitive edge with innovative technologies. Pipeline Renewal Technologies is a member of NASTT and NASSCO.
Contact
Pipeline Renewal Technologies
Nicole Lygo
111 Canfield Ave., Unit B3
NJ 07869 Randolph
United States
Phone:
+1 866-936-8476
E-Mail:
mail@pipelinert.com
Internet:
To website