Growing with the Government: A Guide to Bidding on and Winning Government Contracts
When it comes to landing a government contract, the bidding process is the biggest hurdle. Now you can expand your understanding of how to win government contracts with expert insights and advice. Free resource discusses how to choose, understand and write a winning bid for a government contract.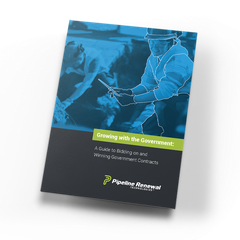 For many small businesses, bidding on government contracts can lead to rewarding opportunities, but can be overwhelming for those new to the process.
Growing with the Government: A Guide to Bidding on and Winning Government Contracts aims to simplify the process for contractors by breaking it down into easy, manageable steps. Writing a bid on a government contract, regardless of the level of government, can be a time-consuming, complicated, expensive process.
Adding government contract work to your line of service can be as rewarding as it is challenging. But finding solicitations and nailing the bid takes time and expertise, so let Pipeline Renewal Technologies lead the way!
"Bidding on a government contract can be daunting," says Nick Sebastian, east coast territory sales manager for PRT. "But our guide provides simple steps, easy instructions and links to additional resources for contractors. And, PRT is ready to help companies of all sizes get the equipment they need to meet the contract terms."
From evaluating solicitations to breaking down the nuts and bolts of bids, let Pipeline Renewal Technologies' newest white paper help you through the process!
Download a copy of this
white paper
free of charge! This white paper was created as part of Pipeline Renewal Technologies' commitment to produce and share resources for the pipeline rehabilitation industry.
About Pipeline Renewal Technologies
Pipeline Renewal Technologies is an Envirosight company focused exclusively on the pipeline rehabilitation market. The company offers technologies for no-dig structural lateral connection; drain and mainline cutting; durable point repair; video drain flushing; and process measurement. A strong emphasis on support makes Pipeline Renewal Technologies the partner of choice for municipal contractors looking to gain a competitive edge with innovative technologies. Pipeline Renewal Technologies is a member of NASTT and NASSCO.