Pipeline Renewal Technologies Offers New Trenchless Rehab Methods Poster
This free poster serves as a handy visual reference for sewer rehab professionals.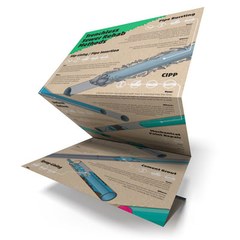 To help sewer professionals gain a basic understanding of trenchless rehab options, Pipeline Renewal Technologies (PRT) has created a new, free Trenchless Sewer Rehab Methods Poster. This handy reference, perfect for office wall or service truck, illustrates each method and describes its process, benefits and limitations. It covers common trenchless methods such as pipe bursting, slip-lining, CIPP, deform/reform, mechanical point repair, chemical grouting, cement grout, spray-lining, pipe reaming and rerounding.
"Compared to excavation and replacement, trenchless technologies represent a less expensive and less disruptive way to restore a sewer's structural integrity, reduce infiltration, and prevent leaks," says Sean Lipscomb, Pipeline Renewal Technologies' Field Operations Manager. "Still, choosing the best method for a given application can be a challenge. That's where we got the idea for this poster. "
"We always try to be a resource for the market," says Jordan Eickelberger, PRT's Partner Manager. "With so many trenchless rehab methods out there, it's easy to get overwhelmed. This poster helps sewer rehabilitation professionals make sense of the options."
Request a free copy of PRT's Trenchless Sewer Rehab Methods Poster at: http://inbound.envirosight.com/trenchless-rehab-methods-poster
Contact
Pipeline Renewal Technologies
111 Canfield Ave, Unit B3
NJ 07869 Randolph
United States
Phone:
+1 973 252-6700
Fax:
+1 973 252-1176
E-Mail:
mail@pipelinert.com
Internet:
To website