PipeFlow Release Demonstration Video of Pipe Flow Expert 2010 Software for Flow and Pressure Drop Calculations
Video demonstration of Pipe Flow Expert 2010 at www.pipeflow.co.uk shows how to improve the accuracy of your piping design calculations.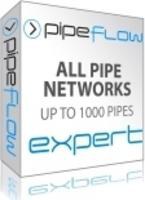 Pipe Flow Expert 2010, software from
www.pipeflow.co.uk
, makes it easy to calculate the flows and pressure drops in pipe systems, while improving the accuracy of calculated results, avoiding in-adequate & error-prone spreadsheet modelling & providing reliable piping design documentation for clients. Today's piping design engineers need instant and reliable answers to complex hydraulic calculations. There is constant pressure for the correct information, whether it comes from existing clients, potential customers or internal departments of an organization. The time of being able to get back to a client in a couple of days has long gone; by then a competitor has solved the customer's problem and it becomes a lost sale.
Designing or sizing pipe work, calculating pump head requirements or trying to find the flows and pressure losses throughout a pipe system is a difficult task. Not knowing the answer to a piping or pumping related question asked by a client, when they need the information in order to select a product, can lead to the customer taking their business to a competitor that does have the answer. However, there is now an easy way to accurately calculate the flows and pressures in a pipe system for particular size pipes and specific pumps. How can this be done? Simply draw out the pipe design, specify the pipe materials, pipe sizes & pump data, and then ask Pipe Flow Expert for the answer!
Pipe Flow Expert 2010 is designed to be intuitive, easy-to-use & reliable. It provides instant results and solves your pipe design to find the steady state flow and pressure conditions. Pipe Flow Expert shows the calculated flow and pressure results on a visual color-coded representation of the piping drawing so that it is easy to see what is happening within the pipe system. Hovering over an item on the pipe drawing shows additional calculations related to the specific pump, pipe, fitting, tank or component. Calculated results are also shown in an interactive spreadsheet window, which is designed to operate in tandem with the data displayed on the pipe drawing. Data can be exported to Excel or a professional PDF report can be generated with a customized coversheet, high-resolution drawing and customized table data.
"The Pipe Flow Expert software really does take the pressure out of calculating the fluid flows and pipe friction losses in a pipe system." said Gardiner of PipeFlow.co.uk Whatever information is needed, it's all right there on display within Pipe Flow Expert, from Reynolds numbers, friction factors, friction losses, k factors, fitting losses, component losses, control losses, pipe materials, pipe diameters, entry pressures, exit pressures, flow rates, velocities, elevations, pump head requirements, pumping efficiencies and NPSHa through to energy usage and energy losses for individual items; all of this and more is calculated by Pipe Flow Expert.
Pipe Flow Expert 2010 is available now from
www.pipeflow.co.uk
for a no obligation free trial. The software comes with a variety of example systems that can be loaded and solved to show the capabilities of the program. It also allows the design of small systems that can be solved to provide a comparison of Pipe Flow Expert's results against externally verified data.
Performing piping & flow calculations with the right software can make a huge difference to the time and effort costs associated with a project. Prior to Pipe Flow Expert, high-end flow and pressure loss calculations software was simply too expensive and too difficult to use but now with Pipe Flow Expert's easy-to-use intuitive interface, robust calculation engine and totally unrivalled value-for-money proposition, it has become the compelling choice for engineers in over 75 countries worldwide.
Contact:
Pipe Flow Software
Beechfield House
Cheshire SK11 0LP
PH.: +44 (0)1625 509142
FAX: +44 (0)1625 549208
E-Mail: info@pipeflow.co.uk
Internet: www.PipeFlow.co.uk