Pipe rehabilitation company Jensen invests in the world's most powerful UV curing system for liners
With the investment in a new UV curing system for liners, Jensen, a company from Bordesholm, Germany, specialising in pipe rehabilitation using UV light as the curing medium, has expanded its capacity in the area of sewer pipe rehabilitation. The company founded by Stefan Jensen in 2010 has now invested in a UV curing system from RELINEEUROPE that enables the curing of lines with dimensions ranging between DN 150 and DN 1200 over a length of up to 300 metres in a single run.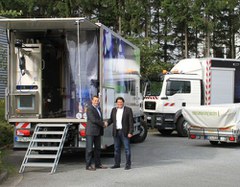 As a "highlight" of the new rehabilitation unit, the light source specifically manufactured by RELINEEUROPE for the rehabilitation of large-segment lines, offers a capacity of 12 x 1,000 Watt. This worldwide unique curing capacity allows liners that are used for pipes with especially large cross sections which are subject to high static loads to be installed considerably faster and more reliably. The known advantages of the UV curing method are thus directly transferable to the rehabilitation of large-segment liners. According to the Managing Director Stefan Jensen, the major distinction from other curing technologies is the automatic monitoring of the intensity and control system of the curing system from RELINEEUROPE. This new technology ensures that the UV radiators used for curing are always operating at their full capacity, thus ensuring that the curing process always takes place wit the same maximum safety and at the most cost-effective speed.
Of particular importance to Jensen is professional construction site management. The rehabilitation unit thus comprises two fully equipped vehicles with their own pneumatic and power supply in order to meet all construction project requirements. The first experience gained on site confirms the desired increase in capacity and reliability. The clever design of the rehabilitation unit has already had a positive impact on the daily set-up times.
The new UV curing system complements the existing UV unit, which was already in use across Europe. "With this investment, we intend to position ourselves as a specialist for large-segment liners without losing sight of the smaller dimensions," says Jensen. The pipe rehabilitation company Jensen also places great emphasis on the training of its rehabilitation crew. Long before the system was delivered, the employees were prepared and received extensive training in the new system.
Contact and further information
Rohrsanierung Jensen GmbH & Co. KG
Stefan Jensen
Seestraße 2
24582 Bordesholm
Phone: +49 4322-8879991
Telefax: +49 4322-8879969
Contact
RELINEEUROPE Equipment GmbH & Co. KG
Große Ahlmühle 31
76865 Rohrbach
Germany
Phone:
+49 6349 / 93934 -0
Fax:
+49 6349 / 93934 -101
E-Mail:
info@relineeurope.com
Internet:
To website