Pipe Flow Software Launches New International Website at PipeFlow.com
Pipe Flow Software today announced the launch of their new website http://www.pipeflow.com to serve their international customers in over 75 countries worldwide.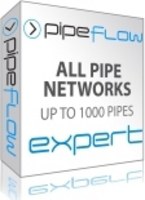 PipeFlow.com provides a central resource of information on pipe system design and the hydraulic analysis of pipe systems, as well as serving as a distribution point for Pipe Flow Software programs, which calculate flow rates and pressure drops in pipe networks. Website visitors can download a free trial of the popular PipeFlow ® Expert software that makes it easy to draw, model and analyze a piping design, including both open and closed loop systems, with multiple supply & distribution points and multiple pumps.
The Pipe Flow Expert software supports both 2D and 3D isometric drawing and will calculate the steady state balanced flow and pressure condition of a pipe system. It calculates flow rates, pressure drops, pipe friction losses, pipe fitting losses, component losses, pump head requirements, and provides a color coded results drawing that makes it easy to obtain a visual analysis of the hydraulic model. The Pipe Flow Expert software is a Microsoft Windows desktop application that is used by engineers in over 75 countries worldwide.
"The launch of our new PipeFlow.com website represents a further milestone in our efforts to provide the best pipe system modeling software to engineers in countries throughout the world, wherever they are. Our existing PipeFlow.co.uk website has been very successful and we hope that our new PipeFlow.com site will be an even greater success in international markets, especially in promoting our premier Pipe Flow Expert software," said David Gardiner of PipeFlow.com.
PipeFlow.com aims to become the number one website destination for engineers that are looking for easy-to-use software programs that help them design, analyze and model pumping and piping systems. Customer testimonials from the international list of existing users of Pipe Flow Software can be viewed on the new website at http://www.pipeflow.com/customer-testimonials
Pipe Flow Expert features include an intuitive user interface that is best-in-class and easy-to-use, a robust calculation engine that uses the Darcy-Weisbach method (with friction factors calculated from the Colebrook-White equation), an integrated fluid database with common liquid and gas properties, a pipe database with common pipe materials and sizes, and a fittings database with common valves and tees. Further information about the Pipe Flow Expert software is given at http://www.pipeflow.com/pipe-flow-expert-software.
The PipeFlow.com website is fully integrated in terms of allowing users to download and trial the Pipe Flow Software programs, providing software documentation and help files, and allowing users to return and purchase a license for their Pipe Flow software using a credit card. To make payment and get a software program licensed at http://www.pipeflow.com normally takes less than two minutes.
"We are known for our easy-to-use software interfaces and our unrivalled software support and we've worked hard to make sure the new PipeFlow.com site meets the needs of our users. In fact, people are able to make payment online using a credit card and get their Pipe Flow software licensed in less than 2 minutes, wherever they are in the world. That's a pretty good start with service." Gardiner said.
PipeFlow.com provides a valuable resource for today's engineers that need to size pipe diameters, calculate pressure drops in pipe systems, establish maximum flow rates, assess pump efficiency and that need to produce energy efficient pipe designs.
About PipeFlow.com – PipeFlow.com is owned by Daxesoft Ltd, a UK registered company. It has used PipeFlow as a trading name for over 10 years. PipeFlow designs and develops fluid flow and pressure drop calculations software that is used by engineers in over 75 countries worldwide. PipeFlow has over 1500 clients in a variety of industries including aerospace, chemical processing, education, food and beverage, general engineering, mining, petrochemical, pharmaceutical, power generation, water and wastewater processing.