Pipe End Caps Range Expanded to include Flanged Pipe
FT Pipeline Systems, a leading supplier of steel water pipes to the UK construction industry has expanded its range of pipe end caps to include caps for flanged pipe.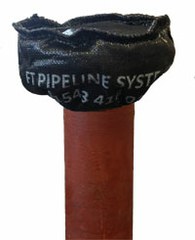 Missing or damaged pipe end caps are a common occurrence on site and can lead to a variety of problems. To assist with this issue, FT Pipeline Systems developed its own range of end caps. Made from strong, woven polypropylene with a separate rubber closure band, they are lightweight, durable and cost effective.
The standard pipe end caps are available to fit pipe diameters of 80mm through to 2000mm. To complement these, a range of flanged pipe end caps are now available. They feature a drawstring closure method and are available for pipe sizes 65mm through to 2000mm.
All of the end caps are supplied pre-printed with the pipe diameter. They are easy to apply and since they can be folded up, can be conveniently stored in a site vehicle. A further advantage is that they can be re-used, but when they eventually come to the end of their useful life, the end caps can be widely recycled.
Daniel O'Neill, Operations Manager of FT Pipeline Systems, who developed the end caps, said: "Our customers often take delivery of pipes whose end caps have gone missing during transit or handling. Combine this with the DWI requirement that all pipes on site and in storage require end protection, and we felt compelled to try and resolve this issue. Our range of end caps can withstand adverse weather conditions and have been created from the most suitable, sustainable material".
Contact
FT Pipeline Systems Ltd
Stacey John
6b Eastern Park
WS13 7SY Lichfield
United Kingdom
Phone:
+44 (0) 1543 / 416024
Fax:
+44 (0) 1543 / 416261
E-Mail:
stacey@ftpipelinesystems.co.uk
Internet:
To website