Pipe Crawler SIGMA HD: Premium Features are Now Standard
Advanced multi-functional Pipe Crawler from MEDIT for inspection of pipes from 150mm to 3500mm (6" to 120"). Depending on the configuration, this affordable system has cables from 200 meters (656 ft) to 600 meters (1,968 ft) on a manual or a motorized reel, plotting and measuring capabilities and Full HD front and rear cameras.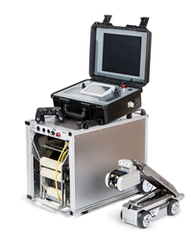 The
Pipe Crawler SIGMA HD
was designed and manufactured in order to cover most existing pipe types and shapes. In addition, this new system provides a comfortable working environment due to a solid array of functions.
The steerable robot is equipped with a Full HD color Pan, Tilt, and Zoom (PTZ) camera head, powerful 10x optical zoom, 12x digital zoom, High Powered Built-in LEDs, Laser measuring diodes, and image stabilization, to name just the main highlights.
In addition, the system is furnished with several sensors, which measure internal pressure, slope angles (inclinometer) and pipe turn angles (gyrometer). Two powerful Faulhaber motors (110W each) move the pipe crawler at a speed set and adjusted from the control unit.
The control unit of the system features two touch screens, a built-in telemetry computer with Telescan software and a 256GB internal memory. Two joysticks help to make steering and navigating the robot easy and intuitive. For added protection, the control unit is placed within a hardshell Pelican type case.
In general, durability and safety are some of the outstanding characteristics found in the pipe crawler. The G8 cables are multicore, Aramid reinforced, and protected with thermoplastic housing, while the wet cable end is made of stainless steel. The standard SIGMA HD 150 model comes with a standard 200m (656') or 250m (820') optional cable, while the enhanced SIGMA HD 200 version is supplied with a variety of cable lengths ranging from 250m (820') up to 600m (1,968').
The former simplified model is equipped with a manual reel with a tensioner and a smart rewinder function, while the latter, enhanced version of the system boasts a motorized reel, which unwinds, retracts and regulates the cable automatically. Predictably, the robot with the camera and the cable are fully waterproof.
Contact
Fiberscope.net by MEDIT
Oleg Zuev
Managing Director
1-1599 Dugald Rd
MB R2J 0H3 Winnipeg
Canada
Phone:
+1 800 239 9934
E-Mail:
oleg_zuev@meditinc.com
Internet:
To website