Pipe Bursting Manufacturer TRIC Tools travels to St Louis for Trenchless Technology Seminar
Pipe Bursting Manufacturer TRIC Tools presents its technology at Midwest (MSTT) Trenchless Technology Seminar in St. Louis.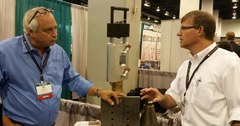 California Pipe Bursting Manufacturer TRIC Tools traveled to St. Louis for the 2016 Trenchless Technology, SSES and Buried Asset Management Seminar. The event was sponsored by the Midwest Society of Trenchless Technology (MSTT) and the American Society of Civil Engineering (ASCE). The Seminar took place December 14th & 15th at the Hilton St. Louis Union Station Hotel at 1820 Market Street in St. Louis, MO 63103. TRIC is appreciative of Executive Director Leonard Ingram's support and work to help promote Trenchless Technology.
Mr. Ingram also serves as Treasurer on the Board of Directors of the Buried Asset Management Institute International (BAMI-I). Midwest Business Development Director Bill Seals represented TRIC in St. Louis.
Bill gave a 30 minute presentation on TRIC's diverse product mix. He showcased a 4" pipe bursting training in Alameda, CA, an M50 pipe bursting training in Tel Aviv, Israel and an 18" pipe bursting project with Express Plumbing of San Mateo in San Francisco's financial district. "I really enjoyed the opportunity Leonard gave TRIC to present our diverse product mix to a new audience," said Mr. Seals.
TRIC Tools, Inc. is an infrastructure and environmental solutions company that provides proprietary technology, tools and services for trenchless rehabilitation and replacement of sewer, water, gas and other difficult to access underground pipes. TRIC holds five U.S. and International patents for its device and method of trenchless pipe bursting.
In 1997, TRIC established the standards and created the industry for lateral replacement (home sewer line) using its pipe bursting technology. TRIC continues to re-engineer its technology for new markets, expanding upon its domestic sewer lateral tools with the introduction of innovative solutions for mainline sewer, drinking water and gas distribution pipelines.
Contact
TRIC Tools, Inc.
Michael Lien
1350 S. Loop Rd
CA 94502-7081 Alameda
United States
Phone:
+1 (510) 629-4169
Internet:
To website