Pipe Bursting Manufacturer Tric Tools Provides Training in Tel Aviv, Israel
Pipe Bursting Manufacturer TRIC Tools connects clients across borders. Z-Techno certified trainer Gennady Belous travels to Israel for pipe burst training TRIC's client Meiri and Sons, Ltd.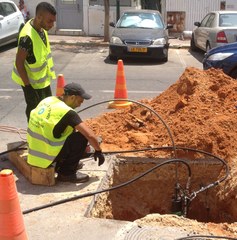 In July, Gennady Belous of Z-Techno traveled to Tel Aviv Israel to work with Meiri and Sons, Ltd. In February 2016, Meiri and Sons, Ltd. purchased TRIC's M50 Pipe Bursting System. TRIC Tools Director of Marketing and Product Support John Raffferty traveled to Tel Aviv for TRIC's initial training. Two months after the training, Guy Meiri asked TRIC if John could return for follow-up training in July. Meiri had some challenges with setting up the equipment on a few of the jobs following the training. Mr. Meiri wanted to make sure his team was following the right procedures to create a safe operating environment. Due to John's busy schedule, TRIC's International Business Development representative, Mrs. Miriam Brenner, suggested that TRIC contact Z-Techno, their long-time Distributor in Russia.
In early July, Mrs. Brenner coordinated the training, transportation and lodging for Gennady. TRIC felt under the circumstances travel from Russia would be more convenient both for Gennady and Guy than a flight from California. Z-Techno has been TRIC's most successful pipe bursting distributor for the last 8 years. In May of 2008, TRIC traveled to Moscow for the Moscow "No Dig" Trade Show. John Rafferty, Miriam Brenner and Director of Sales Gregg Abbott met with Z-techno and Rosvodakanal (Moscow Water Company). Mr. Rafferty trained both Z-techno and Rosvodakanal during the trip. In 2011, Z-Techno's General Director Rustam Baltakhanov traveled to Berlin to meet Mr. Abbott and TRIC's Operation Director at the Wasser Berlin & Trenchless International Trade show.
Since 2008, Z-Techno's Management has been proven to be a good trading partner and a close friend. Both Gennady and Guy enjoyed the July training experience and Meiri and Sons enjoyed experiencing training from another pipe burster's perspective. "TRIC's equipment is superp. They are high performance, easy to operate and easy to handle for our projects," said Meiri. TRIC invented and patented the first Lateral Pipe Bursting System while simultaneously gaining national approval of the HDPE pipe for its use, thus opening the market for trenchless home sewer replacement in America.