Pipe Bursting Manufacturer, TRIC Tools, participated in UK's 2014 No Dig Live
Gregg Abbott represented TRIC Tools Pipe Bursting Technology at No Dig Live during September 16th to 18th, 2014.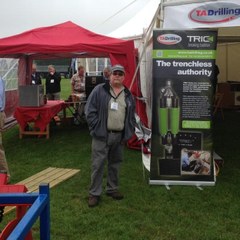 Gregg Abbott, Director of Sales for TRIC Tools, Inc. traveled to Peterborough, England to participate with TA Drilling at 2014 No Dig Live. No Dig Live ran from September 16th thru the 18th. Gregg assisted TA Drilling with TRIC's pipe bursting technology at the event. The No Dig show gives attendees a chance to see the latest technology used in new installation and rehabilitation of Underground Utility Pipelines. TA Drilling, Ltd., purveyor of top-shelf service and equipment to the underground utilities industry in the UK and Ireland, added TRIC Tools of California in 2012 to its diverse family of underground infrastructure solutions.
This is No Dig Live's Twelfth Biennial Trenchless Technology Exposition. Gregg met up with a number of international buyers and other members of the underground industry. Gregg traveled half way around the world and was able to meet fellow Californian, Chuck Hansen, CEO of Electro Scan Technologies. Electro Scan had one of the most creative booths at the show with a Wild West Frame work for its booth that reminded some of the movie "Wild, Wild West".
Just prior to No Dig Live, Mr. Abbott's, traveled to Wakefield, England where Simon Senior, Commercial Director with Applied Felts, Ltd. gave Mr. Abbott a tour of their facility. Abbott remarked: "I was very impressed with the facility, their process of making the felt lining for Cured in Place Pipe (CIPP) distributors. He continued, "I was truly awed by the longevity of their business and their ability to change according to the changing industrial demands in the textile industry." TRIC often co-markets its pipe bursting technology with Applied Felts' Maxliner CIPP lining division.
TRIC invented and patented the first practical sewer lateral pipe bursting system while simultaneously gaining national approval of HDPE pipe for its use, thus opening the market for trenchless home sewer replacement in America. TRIC has since added municipal cable-pulling systems to their arsenal, always employing their formula of modular portability, including pneumatic and steel-splitting heads designed to replace various pipe sizes and materials from 25mm to 300mm diameter. Both TA Drilling and TRIC are looking forward to a long and productive relationship.
TA Drilling has broadened its lineup of technology with a CE compliant quiet running 36HP Pump, and a stateof- the art dual use extraction frame. TRIC looks forward to working closely with all of our dealers as the pipe bursting market continues to grow internationally.
Contact
TRIC Tools, Inc
Michael Lien
1350 S. Loop Rd., #104
94502 Alameda
United States
Phone:
+1 415-8287997
Internet:
To website