Pipe Bursting Manufacturer TRIC Tools Announces New Hydraulic Pump Model
Trenchless Pipe Bursting Manufacturer unveils its New Hydraulic Pump Model for 2017. More Pump Options will be released in the spring of 2017.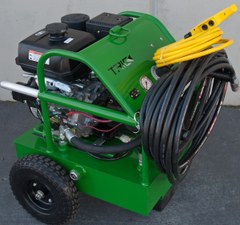 Trenchless Pipe Bursting manufacturer TRIC Tools, Inc. is excited to announce the launch of its new and improved 14 Horsepower, 6000 psi hydraulic power pack, specially designed to accompany the TRIC lateral pipebursting system. In 2017, the company plans to produce more pump options to work in connection with their M-Series municipal pipe bursting equipment.
The new TRIC pumps deliver 2 to 8 gallons per minute (GPM) to the pulling unit. The flow rate—which translates to pulling speed—depends upon the amount of pulling force required for the job. The 6000 psi pressure gauge is essential, because it tells the technician exactly how many tons of pulling force the Pipe Bursting assembly is delivering. The gauge gives immediate feedback on pull resistance, informing the operator of issues such as a bend in the pipe path, a heavy root mass, transition coupling or heavy bell joint, or just hard compact soil conditions.
TRIC Operations Officer Michael Lien commented, "The new pump features an ergonomic design that oozes strength, charm and speed." New features include a 14HP Kohler engine that couples directly to the Oil Gear pump. This shortens the frame of the pump by eliminating the need for a lovejoy connector between the pump and engine. The remote control pendant cord now plugs into a heavy-duty three-prong twist-lock outlet on the face of the pump. "This enables the contractor to easily repair or lengthen the pendant cord connection with a standard 20-amp twist-lock plug or extension cord from Home Depot," said TRIC Senior Field Technician John Rafferty.
Other features include improved slide handles that snap into place, a muffler heat shield, and an all-welded tubular steel frame for strength and durability. The wheels have been upgraded to withstand rigorous field use. As with other TRIC products, the company's goal is to keep equipment compact and easy to use in an attractive package.
Contact
TRIC Tools, Inc.
Micheal Lien
1350 S. Loop Rd., #104
Alameda CA 94502-7081
United States
Phone:
+1 (510) 629-4169
Internet:
To website