Petrology On-Line with the world's first 40t all-terrain Grundowinch
As a leading Trenchless Technology equipment specialist manufacturer and supply partner to many major UK Contracting, Civil and Utility organisations, TT-UK were the ideal choice when Petrology needed a very special winch unit for their unique subsea Swagelining operations carried out world wide.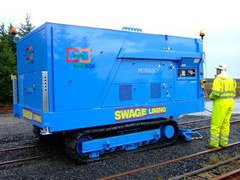 Having previously utilised TT-UK's reliable 10T and 20T Grundowinch units, normally rented-through external hire-outlets, Petrology decided it was time to invest and have their own specialist winch inter-company.
Petrology holds the sole licence for Swagelining subsea pipelines and has also taken possession of the IP Rights to the WeldLink connector. Petrology are an expert lining contractor who specify, procure and test the polymer prior to welding the material together on site, Swagelining, then terminating the liner of up to 1 Kilometre in length inside the host pipeline.
With projects overseas and at home, (one of which was recently in the highlands of Scotland, where the butt-fusion of PE pipes directly onto rail bogies as a parallel activity to eliminate double handling and risk of damage during movement), the Grundowinch was seen as the preferred choice to complement and enhance their Swagelining process.
Following discussions on build design specification, TT-UK were awarded an order to build and supply a 40t (track-mounted crawler version) Grundowinch incorporating a technical specification to facilitate Petrology's unique sub sea Swagelining operations.
With final build, pre-delivery inspection and pull-tests completed, Petrology took official hand over in Wick, Scotland in October 2008, where it successfully completed its first winching operations.
TT-UK were in attendance to oversee and ensure its correct site operation, undertaking site training and fully supporting Petrology's investment for the future.
Contact:
TT UK Ltd.
10 Windsor Road
Bedford MK 42 9SU
Tel.: +44 1234.342.566
Fax: +44 1234.352.184
Internet: www.tt-uk.com
E-Mail: info@tt-uk.com
Contact
TT UK Ltd.
42 9SU Bedford MK
Phone:
+44 1234.342.566
Fax:
+44 1234.352.184
E-Mail:
info@tt-uk.com
Internet:
To website