PENETRON Helps Build Tunnels, Bridges & Highways
Infrastructure projects are low on glamor but high on importance, which is why ensuring optimal durability in concrete is crucial. PENETRON crystalline technology is used in an almost endless range of civil projects – the latest is the just-opened Line 4 subway in São Paulo, Brazil.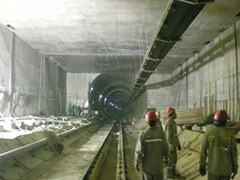 The last month's opening of the "Line 4" or "Green Line" subway in São Paulo is the newest addition to Brazil's largest public transportation system. Both an underground and above-ground line, PENETRON crystalline technology was used for the station walls, the "cut and cover" tunnel and all concrete joints. Work was completed in time to get spectators to the world's biggest sporting event of the year: the FIFA World Cup 2014.
"PENETRON has comprehensive experience and know-how in substantial public projects and infrastructure upgrades," says Jozef Van Beeck, International Sales & Marketing Director of The PENETRON Group. "Around the world, our crystalline technology helps transform porous concrete into a highly durable material by reducing permeability. This has been proven to significantly increase the durability and lifetime of concrete structures."
Ramping up Brazil
The range of infrastructure projects that have benefitted from PENETRON technology is almost endless and includes everything from bridges, highways and tunnels to shipping ports, water treatment plants and airports. A selection of the most recent projects for the FIFA World Cup in Brazil include:
Porto Maravilha, Brazil – a renewed Rio de Janeiro waterfront includes water treatment plants, tunnels, drainage, sewage systems, new roads and bike paths
Guarulhos (São Paulo) Airport / Terminal 3 – a new terminal at South America's largest airport relies on PENETRON technology
Rio de Janeiro Metro / Line 4 – a new 16 km underground line used PENETRON technology for all the stations
São Paulo Metro / Lines 2 & 4 – both new extensions to Brazil's largest public transportation system; tunnels and stations used PENETRON materials
"PENETRON Brazil has finished – and continues to work on – numerous infrastructure projects all over the country," says Jozef Van Beeck. "But we're also very busy with civil projects around the world."
Doing It All
The underground subway lines, airports and port renewals in Brazil showcase only a few of the types of infrastructure projects for which PENETRON has become well-known. The PENETRON crystalline technology is found in a wide range of applications. A few highlights include:
Dams –the Bouguchany Dam, Russia's largest dam, and the Long Tan Dam in China, the world's largest roller-compacted concrete (RCC) dam
Tunnels – the Bothnia Line high-speed railway in northern Sweden, and the Los Olmos Project, designed to divert water to the drier western part of Peru
Education – the California Science Center with a 188,000 gallon (712,000 liters) kelp tank, and Peking University's Khoo Teck Puat Gymnasium in China
Water treatment –the Milan South plant in Italy helping to clean up the Po River, and the enormous South Cobb system in Atlanta (GA), USA
Power – the Seabrook Nuclear Power Plant in New Hampshire, USA, and the Krasnaya Polyana power plant, Russia, built for the 2014 Winter Olympics
"When it comes to the challenges of civil projects, PENETRON does them all," adds Robert Revera, President and CEO of The PENETRON Group. "Such projects demand maximum longevity, and that's why 'durability by PENETRON' has had such success around the world."
The PENETRON Group is a leading manufacturer of specialty construction products for concrete waterproofing, concrete repairs and floor preparation systems. The Group operates through a global network, offering support to the design and construction community through its regional offices, representatives and distribution channels.
Contact
The Penetron Group
45 Research Way
11733 East Setauket, NY
United States
Phone:
+1-631-941-9700
Fax:
+1-631-941-9777
E-Mail:
info@penetron.com
Internet:
To website