NUCA Names Gary Lawson of Ditch Witch® as 2017 Associate Member of the Year
Each year the National Utility Contractors Association (NUCA) honors an associate member who demonstrates a significant contribution to the underground construction and excavation industry. At the annual banquet on Thursday, March 7 in San Antonio, Texas, Gary Lawson was awarded the 2017 Associate Member of the Year.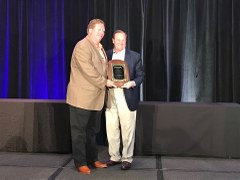 As Ditch Witch® Senior Global Accounts Manager, Lawson has served as the company's NUCA representative since 2001. Lawson began his career with Ditch Witch, a Charles Machine Works Company, as a district representative in 1980. He has visited customers and jobsites across the globe to become an expert in the underground construction industry.
"Gary continuously demonstrates commitment to the industry through his eagerness to expand its safety and educational efforts," said Dennis Wierzbicki, Ditch Witch President. "He is truly an asset to NUCA and we are proud to have him as a representative in the organization."
Lawson has been actively involved with multiple NUCA committees and events. He previously served as 2015 convention vice chairman for NUCA's 50th Anniversary Convention and is currently serving in his first year as national director on the NUCA board.
Lawson also represents the Ditch Witch organization in other industry associations, including the Distribution Contractors Association and Electric Utility Fleet Managers Conference.
About the Ditch Witch® Organization
Ditch Witch, a Charles Machine Works Company, invented the underground utility construction industry, and today it designs, manufactures and markets the most complete line of directional drills, drill pipe, HDD tooling, vacuum excavators, trenchers, chain, teeth and sprockets, mini skid steers and vibratory plows. Visit www.ditchwitch.com, to find more details. Contact Ditch Witch at info@ditchwitch.com or 800-654-6481.
About Charles Machine Works
Established in 1902, Charles Machine Works, an employee-owned company founded in Perry, Oklahoma, is the only manufacturer and global distributor that solely exists to make underground utility construction profitable. Our family of companies includes Ditch Witch®, Subsite® Electronics, DW/TXS®, HammerHead®, Radius® HDD, American Augers®, Trencor® and MTI® Equipment. For more information, visit charlesmachine.works.
Contact
NUCA
3925 Chain Bridge Rd, Ste 300
VA 22030 Fairfax
United States
Phone:
+1 703 358 9300
Fax:
+1 703 358 9307
E-Mail:
nuca@nuca.com
Internet:
To website