Next stop: Leicester Square!
Thames Water's Victorian mains replacement project reaches London landmark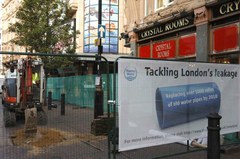 Thames Water's three-year programme of water mains replacement for London's West End reached Leicester Square last week, the heart of the capital's tourist centre.
Beginning in Cranbourn Street on Monday 3 September, the works will be carried out in six phases concurrently, and will include: Panton Street and Swiss Court, as well as Leicester Square itself. All work should be completed by early 2008.
The existing cast iron pipes which supply Leicester Square's businesses, restaurants, cinemas and bars were laid before the First World War, and are badly corroded, meaning that over 60,000 litres of water are lost through leakage each day.
The 600m of new plastic pipes which will replace them should not only greatly reduce leakage and burst pipes, but also mean that future repairs and roadworks will be kept to a minimum.
Thames Water project manager Geoff Matthews said: "Tackling leakage is our number one priority, and we can only do it effectively by systematically replacing all of London's leakiest, cast iron pipes. It's not going to happen overnight, and we're committed to replacing more than 1,000 miles by 2010.
"We appreciate that working in an area as busy as Leicester Square is inevitably going to cause a certain amount of disruption, but we have been working very closely with local businesses, the City of Westminster, Transport for London, Metropolitan Police, London Buses and the Emergency Services to minimise this as far as possible.
"By completing the work in phases, we'll reduce the number of traffic restrictions we will have to put in place, and diversion routes will be clearly marked.
"We hope that customers will not be too greatly inconvenienced by the works, which will bring benefits to the area for generations to come."
Thames Water has been in consultation with all businesses and residents likely to be affected by the works for several months, and has timed works to take place during one of the quieter periods in Leicester Square's year. For instance, work will begin once the majority of schools have returned from the summer holidays.
Sarah Porter, Chief Executive of the Heart of London Business Alliance, which represents businesses in Leicester Square, said: "All our businesses appreciate the importance of these essential, unavoidable works. Through our close working relationship with the businesses in and around Leicester Square, we will be keeping them fully updated as to progress and when the works will be completed."
Contact:
Thames Water
Don Sharples
Press Office
Tel: +44 (0)118 373 8924
Fax: +44 (0)7747 644 364
Web: www.thameswater.co.uk
Email: Don.Sharples@thameswater.co.uk