New support for SPR™ from production facility in the Netherlands: Production at the centre of the EU
SPR Europe is strengthening its production competence: Eslon BV, an extrusion and injection moulding company based in Roermond, the Netherlands, produces PVC profiles used for the innovative SPRTM spiral-wound pipe lining method.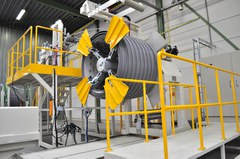 SPR Europe not only develops innovative technologies for trenchless pipe rehabilitation and employs them with a high degree of construction expertise at sites all over the world – the manufacture of rehabilitation products is also integrated into the Group. The Dutch company Eslon has belonged to Japanese SEKISUI parent concern since 1974. Since November 2011 it also produces the PVC profiles on which the SPRTM spiral-wound pipe lining method for the rehabilitation of sewage pipes is based. Besides the steel component, which is still installed in endless strips to ensure good liner strength, the new extruder for SPRTM at the Eslon plant works at a capacity of 500 tonnes of PVC strips per year. SPRTM profiles by Eslon are manufactured mainly for the European sewer market, while the SPR Group subsidiary SEKISUI Rib Loc in Adelaide, Australia, continues to supply the region with all other spiral-wound products.
Hiroide Nakagawa, CTO at SEKISUI SPR Europe GmbH, is delighted about the new SPRTM production plant in Europe: "With Eslon we have an experienced plastics specialist for SPRTM production that satisfies the high Japanese quality standards. Already in the past it has built manufacturing facilities for international products in Europe."
Holger Zinn, Managing Director of KMG Pipe Technologies GmbH, is likewise proud of the extended competence in SPRTM technology: "The plant has decade-long experience in PVC compound extrusion and injection moulding technology. The local production of the SPRTM profile demonstrates how far the establishment of spiral-wound pipe lining technologies has progressed in Europe. Now we can supply the European sewer market promptly and consistently, in line with growing customer demands."
Contact
SEKISUI SPR Europe GmbH
Lena Zemke
Julius-Müller-Str. 6
32816 Schieder-Schwalenberg
Germany
Phone:
+ 49 (0) 52 84 / 705-405
Fax:
+ 49 (0) 52 84 / 705-410
E-Mail:
press@sekisuispr.com
Internet:
To website