New solution for water filtration is the highlight at Aquatech
Filtration specialist MANN+HUMMEL will attend this year's Aquatech trade fair in Amsterdam to present a real innovation in the field of water and wastewater treatment - the HPM ultrafiltration cartridge featuring the new PES membrane technology for the pre-treatment and treatment of process water and water for domestic use.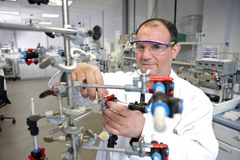 It offers an impressive range of features thanks to the doubling of filtrate performance, while also extending operating life and increasing energy efficiency. With this innovation and participation at the Aquatech again this year, MANN+HUMMEL is clearly signalling its strategic orientation in the global growth market for water filtration.
The development of new filtration concepts, the acquisition of companies such as Fluid Brazil and the expansion of the strategic water filtration business sector in the European market are the cornerstones of the MANN+HUMMEL growth strategy in this market segment. This strategy is underscored by the company's renewed participation at the Aquatech in Amsterdam - the world's leading trade fair for process, drinking and waste water technology.
Almost 900 exhibitors from over 70 countries, around 21,000 visitors over four days and approximately 150 new product presentations - including PES membrane technology from MANN+HUMMEL - these figures are likely to increase even further at this year's Aquatech trade fair, which takes place every two years. "Because of its strategic importance, the Aquatech provides the ideal platform for presenting our new PES membrane technologies and strengthening our position in the water filtration market," says Patrick Cudmore, Group Vice President Water Filtration at MANN+HUMMEL.