New Sewer Camera TRITON's WiFi Feature Has Been Announced by Medit Inc
This new sewer camera configuration from Medit inc. offers a premium viewing experience since it features WiFi connectivity. By using a specially developed app on any Apple or Android portable device, not only the camera operator, but also all other team members or customers will be able to follow the inspection in real time, capture and save inspection images, and even e-mail captured files straight from the app.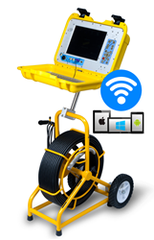 Medit Inc. is happy to announce the arrival of a new long-awaited feature for the TRITON heavy duty sewer camera product line. Wifi connectivity has recently been added to the TRITON camera systems. With the help of the new wi-fi feature, not only can the direct user observe the inspection proceedings, but all interested parties as long as they have access to wi-fi. The only thing a user would need in
order to follow the inspection remotely is an application developed and designed for these cameras.
The application is extremely handy and easy to use. Its intuitive interface offers camera operators a wide spectrum of functions including image capture, recording, playback and export to a computer along with live image. In addition to that, it is now possible to send the captured files by e-mail directly from the app! Of course, just as before, there is an option to save the captured files directly onto a USB stick, because the imaging hub of all TRITON product line systems comes with a USB input. The application is entirely compatible with Apple (iPad, iPhone, iPod Touch) and with Android based tablets and mobile phones. Thanks to top notch technology, the quality of image is very high reducing image freezing and distortions.
In spite of its relatively low price the wifi feature adds significant value to TRITON sewer cameras, known for their reliability and solid performance even under the most adverse conditions. Wifi connectivity places this product line among the most advanced pipe-inspection cameras in terms of versatility. The cameras come with straight view or self-levelling heads ranging from 7/8'' to 1.68'' (22.2 to 42.67 mm) in diameter, and with cable lengths from 200' to 400' (or 60 to 120 meters).
All TRITON inspection devices are heavy duty systems boasting such advanced features as Kevlar braided push rods, waterproof camera heads (up to 6 bars in fresh water depending on the model), on-screen footage counter, and adjustable lighting controls, to name just a few. Canadian built systems are designed particularly with those situations in mind when inspection conditions are far from ideal, such as debris within the pipe, foggy, rainy, very cold weather, or for use underwater. Now it has become possible to order any configuration TRITON sewer inspection camera with a wifi feature.
Contact
Medit Inc.
Terry Peristerakis
Suite 202, 96 Sherbrook St.
R3C2B3 Winnipeg, MB
Canada
Phone:
+1 877-613-2210 ext.708
Fax:
+1 888-686-8660
E-Mail:
terry@meditinc.com
Internet:
To website