New ROVVER X-SAT from Envirosight Inspects Sewer Laterals from Mainline
Envirosight's new maneuverable launcher with pan/tilt camera helps diagnose lateral blockages and find gas line cross bores.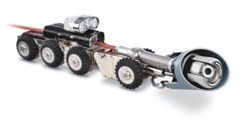 With the new ROVVER X-SAT lateral launch system from Envirosight, a remote operator can perform pan/tilt video inspection 150' into a 4" sewer lateral from an adjoining sewer mainline. The system allows municipalities to confirm the presence of blockages in ratepayer-owned laterals, and helps utility contractors locate gas line cross-bores before they lead to disastrous consequences.
Designed for productivity, the ROVVER X-SAT's steerable six-wheel drive crawler helps it maneuver to troublesome launch points as far as 300' down mainlines 6" and larger. Its force-sensing rollers prevent damage to the push rod, ensuring low maintenance. On-board lamps and a backward-viewing camera enhance visibility in both directions.
The system's auto-leveling color camera with shadowless illumination pans 360 degrees and tilts 90 degrees to capture both sidewall detail and distant targets. The camera's integral sonde transmits at multiple frequencies for easy locating.
ROVVER X-SAT is available as a complete system, or as an add-on package that works with an existing ROVVER X™ system. "ROVVER X is a platform, not a one-trick pony," says Richard Lindner, President of Envirosight. "Other manufacturers make you buy separate systems for CCTV inspection, side-scanning, SAT, and so on. ROVVER X delivers all this capability in a single system, so you can expand your capabilities without spending a fortune on new systems, trucks and personnel."
ROVVER X-SAT officially launches November, 2013, and will receive its ceremonial debut at the 2014 Pumper/Cleaner Environmental Expo in Indianapolis, Indiana.
About ROVVER X
ROVVER X is the one pipe inspection system that lets an operator do everything—control inspections, view and record digital video, log observations, generate reports, and link directly to asset-management software. All this capability is packed into a simple three-piece layout, with no CCU or other components to clutter the workspace.
Though remarkably self-contained, ROVVER X is built on an expandable digital backbone. Not only can an operator add side-scanning and laser profiling, he or she can view data from onboard sensors, automate tasks with macros, and measure defects onscreen. And future capabilities are limitless - ROVVER X's firmware updates automatically to the latest features, and its architecture is ready for any accessory - even ones that don't yet exist.
Advanced technology aside, ROVVER X is built for the rigors of sewer inspection. Twelve wheel options - plus camera lift, carriage and illumination accessories - mean ROVVER X transforms in seconds to inspect any size line. Its six-wheel drive with proportional steering navigates past obstacles, and overlapping wheels climb offsets better than tracks. Powerful motors and a geared drive train maximize range and pivot capability, even with carriage and 10" knobby tires installed.
Ultimately, however, reliability and productivity have made ROVVER the number one crawler brand worldwide. ROVVER X continues this tradition with unsurpassed video resolution and 50% more illumination, leaving no detail hidden. Its powerful reel monitors cable tension optically to prevent slack and minimize resistance, allowing one-man operation. And self-diagnostic capabilities, plus access to operating history, only enhance the uptime of the one crawler that already leads the industry.