New RockRazo Block-Bit System from Kennametal Maximizes Trenching and Foundation Drilling Flexibility
Swap out bits easily as conditions change
With proprietary block features such as an internal groove in the block bore, and a wide variety of tip geometries and bit selections, all backed by outstanding service and support, Kennametal's new rotating/non-rotating block and bit system, RockRazor™, provides contractors maximum flexibility and value for trenching and foundation drilling.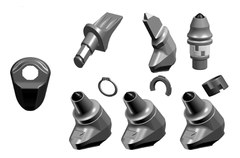 Having the right tools for the right application makes it easy to improve performance and save time and money. With a two-block style, featuring an octagonal hole in the rear of block bore and an internal groove in the front of the block bore, three different retainers can be used along with five rotating and two non-rotating conical tools. Not only can rotating bits be quickly swapped out with non-rotating bits when applications or conditions change, non-rotating flat-spade bits can be indexed in up to four positions for maximum productivity. Or use a combination of both the flat spade tool along with Kennametal's "X" Series conical tools. Flat spade tools assist in cleaning out loose material faster; top-line conical tools cut the harder material.
At the tip end, proprietary point designs combine with Kennametal's advanced carbide grades and higher head hardness, resulting in far less cracking and longer performance in even the most abrasive conditions.
Kennametal Inc. is the leading global manufacturer of tooling and associated engineering services for successful construction work. Contractors are assured the most technologically advanced tools, tooling systems, engineering services, and customer support, designed around maximizing productivity and improving performance.
Contact
Kennametal Inc.
Kathy Linden
1600 Technology Way
PA 15650-0231 Latrobe
United States
Phone:
+1 724 539 5698
Fax:
+1 724 539 6766
E-Mail:
kathy.linden@kennametal.com
Internet:
To website