New RedLine Laser Profiling Accessory for ROVVER X Reduces Cost, Effort of Scanning Pipe Geometry
Jan 04, 2013
Inspection » TV-Inspection
Attaching in seconds to the ROVVER X inspection crawler, the new RedLine™ laser accessory is all you need to geometrically profile the inside of buried pipelines. Captured profile data is readily analyzed to verify proper pipe installation, plan relining projects, determine remaining pipe life, monitor erosion/corrosion, quantify defects, and analyze partial collapses.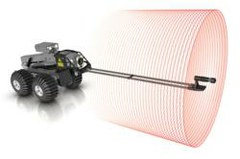 "With the RedLine™ accessory for ROVVER X, inspection professionals can have a system that works seamlessly with ROVVER X and WinCan – and be trained and supported by a single supplier," says Jake Wells, Marketing Manager at Envirosight. "ROVVER X is revered as the one crawler system that can address any inspection challenge, so adding native laser ring profiling capability was an important piece of our development roadmap."
The RedLine™ accessory attaches without tools and requires no electrical connections. A hinged mounting system makes it easy to deploy in tight spaces, and twin carbon fiber arms ensure extra rigidity. The accessory profiles lines up to 18" diameter when mounted directly to the ROVVER X crawler. Larger lines are addressed by mounting the accessory to a skid that is pulled by the crawler.
Profile data from the RedLine™ can be transferred seamlessly to WinCan V8 inspection software, the laser module of which can trend diameter and deformation frame-by-frame to generate a solid model, ovality graph or color plot.
The RedLine accessory can be mounted to any ROVVER X pan/tilt/zoom camera. It operates up to 16 hours on a single AA battery.
About ROVVER X 
ROVVER X is the one pipe inspection system that lets an operator do everything—control inspections, view and record digital video, log observations, generate reports, and link directly to asset-management software. All this capability is packed into a simple three-piece layout, with no CCU or other components to clutter the workspace.
Though remarkably self-contained, ROVVER X is built on an expandable digital backbone. Not only can an operator add side-scanning and laser profiling, he or she can view data from onboard sensors, automate tasks with macros, and measure defects onscreen. And future capabilities are limitless—ROVVER X's firmware updates automatically to the latest features, and its architecture is ready for any accessory—even ones that don't yet exist.
Advanced technology aside, ROVVER X is built for the rigors of sewer inspection. Twelve wheel options—plus camera lift, carriage and illumination accessories—mean ROVVER X transforms in seconds to inspect lines six to 60 inches. Its six-wheel drive with proportional steering navigates past obstacles, and overlapping wheels climb offsets better than tracks. Powerful motors and a geared drive train maximize range and pivot capability, even with carriage and 10" knobby tires installed.
Ultimately, however, reliability and productivity have made ROVVER the number one crawler brand worldwide. ROVVER X continues this tradition with unsurpassed video resolution and 50% more illumination, leaving no detail hidden. Its powerful reel monitors cable tension optically to prevent slack and minimize resistance, allowing one-man operation. And self-diagnostic capabilities, plus access to operating history, only enhance the uptime of the one crawler that already leads the industry.
Contact
Envirosight, LLC
Jake Wells
111 Canfield Avenue
07869 Randolph, NJ
United States
Phone:
+1 (973) 252-6700
Internet:
To website