New QuickView® Inspects Farther into Pipes using Haloptic? Technology; Scans Manholes with Auxiliary Wide-Angle Camera
Designed to inspect sewer and stormwater infrastructure at a fraction of the cost and time of traditional methods, the QuickView zoom survey camera incorporates new patent-pending Haloptic technology to boost the range, aligment and precision of its illumination. The new QuickView is also equipped with a 16 GB wireless video viewer/recorder; an auxiliary wide-angle manhole camera; and a rugged transport case that organizes all system components into one convenient kit.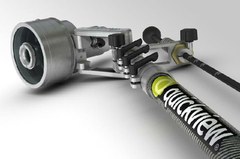 Powered by patent-pending Haloptic™ technology, the new QuickView
®
doubles the range of conventional zoom inspection cameras while targeting illumination with vastly improved precision. This superior performance makes it ideal for performing a rapid, complete assessment of pipeline infrastructure. Other stand-out features of the new QuickView include a pole-mounted viewer/recorder with wireless roaming; an optional auxiliary camera for manhole viewing; and a rugged travel case to organize system components in one convenient kit.
"We've seen municipal budgets squeezed these past few years," says Richard Lindner, President of Envirosight. "It's just not feasible — or even necessary — to perform crawler inspection on an entire collection system when a simple zoom survey tells you what you need to know. We're extremely proud of this QuickView
®
; it's nothing short of a revolution in zoom inspection technology, and it sets a very high standard for range, detail and precision."
At the core of the new QuickView is patent-pending Haloptic technology, an engineered arrangement of lamp, reflector and camera whereby a perfectly aligned halo of illumination surrounds the camera view. This concentrated beam floods pipe walls with up to 20 times more light than conventional technology; illuminates distant targets for maximum clarity and detail; and eliminates the need for any realignment during inspection.
Making it easier than ever to document inspections, QuickView's pole-mounted viewer/recorder presents real-time footage on a 3.6" color LCD, and stores up to 16 GB of video and still images on a micro SD card. The monitor's wide viewing angle and tilt-mount make observation effortless, even when the QuickView is deeply extended or used overhead. Alternately, the monitor undocks for wireless viewing at distances up to 32'. Multiple monitors set to the same frequency allow multiple personnel to view the same real-time footage.
Designed to view all aspects of pipeline infrastructure in a single pass, QuickView's auxiliary wide-angle camera with diffuse illumination inspects manholes and vessels with the flip of a switch. This optional accessory simply attaches to the rear of the main QuickView camera head.
To maximize portability and speed setup, the entire QuickView system travels in a rugged, waterproof roller case with telescoping tow handle. Camera, viewer/recorder, vest, controls, battery and charger fit snugly inside, while the pole clips into brackets on the exterior.
Other pro features set QuickView apart from conventional zoom inspection cameras, including:
Onscreen distance measurement, which displays distance to in-focus targets onscreen at the touch of a button.
Image stabilization, which combines spring dampers with video stabilization circuitry to maintain a steadier view.
View centering, which lets you align QuickView's camera view to the pipe centerline in seconds. Simply adjust the foot to the graduation corresponding to the pipe diameter.
QuickView comes with a safety yellow operator vest to hold the battery and joystick controller. Its collapsible carbon fiber pole is offered in 16', 24' and 30' lengths. Available accessories allow drop-line inspection, pole extension, and more.
About QuickView:
Trusted by more than 2000 users worldwide, the patented QuickView
®
zoom inspection camera evaluates pipelines, manholes and tanks from street level. Contractors use it to survey pipe condition before bidding services, and to document completed work. Municipalities use it to identify and prioritize maintenance issues, avoid confined-space entry, and inspect hard-to-reach infrastructure. Departments of transportation use it to assess culvert and storm pipe condition with minimal exposure to traffic. The QuickView
®
and Haloptic™names and logos are trademarks of Envirosight, LLC. QuickView carries patents 6,538,732 and 7,009,698; Haloptic™ technology is patent-pending.
About Envirosight LLC:
Randolph, New Jersey-based Envirosight, LLC provides video pipeline inspection solutions to municipalities, contractors, departments of transportation, and civil/environmental engineers. Envirosight is committed to ongoing innovation, delivering products that enhance user productivity and inspection detail. Envirosight serves customers through a trained network of regional sales partners who deliver localized support and expertise with rapid turnaround. All Envirosight technical employees hold NASSCO PACP certification. Visit Envirosight online at http://www.envirosight.com.
Contact:
iPEK International GmbH
See, Gewerbepark 22
87477 Sulzberg
Germany
Tel: +49 8376 92180-0
Fax: +49 8376 92180-21
Internet: http://www.ipek.at
E-Mail: ipek@envirosight.com