New PE-RT resin completes portfolio used in hot water pipe applications
ROTTERDAM, Netherlands - LyondellBasell Industries has launched a new raised-temperature-resistant polyethylene resin (PE-RT) to complete its range of materials used in plumbing and underfloor heating. Produced using LyondellBasell's Advanced Cascade Process (ACP), the new Hostalen 4731B high density PE resin exhibits excellent long-term creep performance and thermal stability and can therefore be taken into consideration for pipe applications. The PE-RT Type II material, which meets ISO standard 24033, is the latest addition to LyondellBasell's range of cross-linked polyethylene, random copolymer polypropylene and polybutene-1 materials used in demanding applications such as hot water pressure pipes.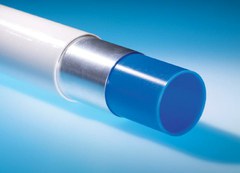 Competitive Alternative
Tests conducted at the Swedish Bodycote Materials Testing Institute confirmed the material's outstanding hydrostatic properties. Simulating a 50-year service life at temperatures of 70°C, the new PE-RT resin exceeded the minimum requirements of PE-RT Type II materials in the most important application classes by more than 10 percent, based on ISO 10508 standards. With its good creep resistance, the resin can be considered for use in solid wall and aluminum-metal composite pipes with a typical pressure of up to 10 bar, and an operating temperature of up to 70°C.
"Critical to the performance of PE-RT resins is their ability to withstand a designed stress level over several decades at elevated temperatures. Our Hostalen 4731B resin provides this performance without cross-linking requirements, thereby offering a cost-effective alternative to a market traditionally dominated by cross-linked polyethylene," explained Hansjörg Nitz, LyondellBasell's Global Pipe Business Development Manager.
The Hostalen 4731B resin also provides good processability. "Manufacturers can achieve high line speeds with smooth pipe surfaces. The high-melt strength properties of the resin result in very good dimension stability of the extruded pipe, which allows thin-wall pipes within small tolerances. The resin can also be processed on HDPE and PP-R equipment," said Nitz.
Multimodal resins
Mulitmodal resins produced using the Hostalen ACP process offer a combination of mechanical product properties and processing behavior that are unattainable with conventional HDPE materials. The technology enables fine tuning of the properties balance required for grades used in demanding applications such as hot water pressure pipes.
The Hostalen 4731B resin is available in all regions except North America.
Contact:
LyondellBasell Industries
P.O. Box 2416
3000 CK Rotterdam
Internet: www.lyondellbasell.com

Media Contact:
Waldemar Oldenburger
PH: +49 69 305 854 59
E-Mail: waldemar.oldenburger@lyondellbasell.com