New Patent-Pending JetCam™ 40 from PRT Steers Through Lateral Lines to Inspect and Clean
Inspecting and cleaning sewer laterals requires the agility to navigate bends, branches and obstructions. The new patent-pending JetCam 40 combines powerful propulsion, positive steering and bidirectional jetting to view laterals from any main line or clean-out.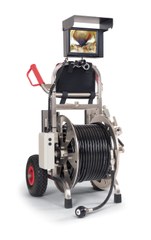 The new patent-pending JetCam 40 from Pipeline Renewal Technologies (PRT) uses high-pressure water for propulsion, steering and cleaning as it captures live inspection video from inside lateral lines. Its novel design makes the JetCam 40 uniquely able to traverse multiple bends in pipe; steer through branches; and levitate above debris. With these special capabilities, municipal contractors and commercial plumbers can locate failed pipes, cross-bores and blockages, as well as perform cleaning.
JetCam 40 is fully water-driven. Six propulsion nozzles generate the power needed to pull its own flexible hose through multiple bends, and a side nozzle on the camera can be aimed to steer through diverging pipes and hover past obstacles. An optional forward-facing nozzle can be pulsed to clear debris and other obstructions. The system works with any high-pressure water source, including pressure washers and combination trucks.
"Ask any plumber or contractor - there are lot of lateral inspection tasks a push camera simply can't address," said Pete Kurz, Business Manager for Pipeline Renewal Technologies. "JetCam 40's agile maneuvering, powerful thrust and portable form factor allow it to access more lateral lines and inspect farther. Best of all, it's affordable enough for even the smallest contractor."
JetCam 40's 1/2-inch hose comes in lengths from 115 to 190 feet. The system attaches to any 1/2-inch connection delivering water at 2000 psi and 20 gpm. The camera itself measures 1.25 inches in diameter (or 2 inches with optional centering device); offers a 145-degree field-of-view; casts shadowless LED illumination; and can be located using an optional sonde transmitter. High-resolution video with footage superimposed is displayed on an integral 5.6- or 8-inch TFT monitor and output via BNC connector, with options for digital recording (up to 32 GB) and Wi-Fi streaming. JetCam 40's welded stainless steel frame and reel travel to challenging locations easily on pneumatic wheels. The system can be operated upright or lying down. It runs on mains power, or lasts up to 2 hours on an internal rechargeable 12-Vdc battery.
Contact
Pipeline Renewal Technologies
Jacob Wells
111 Canfield Ave
07869 Randolph
United States
Phone:
+1 973 252-6700
Fax:
+1 973 252-1176
E-Mail:
mail@pipelinert.com
Internet:
To website