New Manhole Camera with Powerful 40x Optical Zoom Introduced by Fiberscope.net
The Manhole Inspection Camera CYCLOPS is an affordable portable unit with a x40 optical zoom, a 14 ft. articulating telescopic pole (lengths up to 40 ft. available upon request), a 1/2.8" Color Exmor CMOS camera sensor and a high performance digital signal processor. Equipped with recording capability, this waterproof camera was designed for inspections of mainlines, ceilings, silos towers, and other vertical spaces.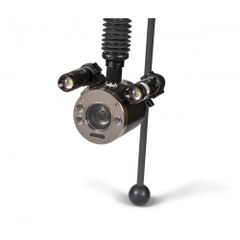 The new CYCLOPS manhole zoom camera consists of a DVR unit and a telescopic inspection pole with an articulating camera head. The standard length of the pole is 14 feet (or 4.2 meters), with longer lengths (up to 40 feet) available upon request. The camera head is tilted manually via the articulating neck which joins the camera head and the pole. Extra bright illumination is provided by three white LED lights with reflectors. The DVR features a high performance digital signal processor. The camera resolution with 1/2.8" Color Exmor CMOS camera sensor is 380,000 pixels.
The manhole camera is equipped with a powerful x40 optical zoom (x80 including digital), which allows to view objects and areas as distant as 100 feet (30 meters) in complete darkness and up to 200 feet (60 meters) under normal inspection conditions. The inspection can be documented on the spot through capturing video and photo files directly onto a 32 GB SD card supplied with the unit. The camera is powered by a NiMH rechargeable battery, and a vehicle adapter is included with the kit. The camera head is waterproof for up to 33 feet (10 meters) in fresh water.
The CYCLOPS camera comes with all the necessary accessories to make inspections comfortable. The kit includes a WalkAbout harness, a sunshade, a belt pouch, and a peli case. Compact and lightweight, the unit can be easily carried around. A GPS, a laser range finder and manhole pole support bracket are available as optional accessories. It should also be noted that this U.S. made military technology camera is one of the most affordable within its market segment.
Contact
Fiberscope.net by Medit Inc.
Terry Peristerakis
96 Sherbrook St.
MB R3 C2B3 Winnipeg
Canada
Phone:
+1 877 224 57 708
Fax:
+1 888 686 86 60
E-Mail:
terry@meditinc.com
Internet:
To website