New Jersey?s ARC Tunnel will use Retractable Robbins TBM: Main Beam Machine will excavate Palisades Rail Routes
After 100 years, a new rail route will once again be burrowed below the Hudson River. Construction is set to begin on the Palisades Tunnels, the New Jersey portion of the Access to the Region's Core (ARC) project stretching from North Bergen, New Jersey to Manhattan in New York City. An 8.38 m (27.5 ft) diameter Robbins Main Beam TBM was selected by PTP Constructors, a JV of Schiavone, Shea, and Skanska, to excavate the tunnels.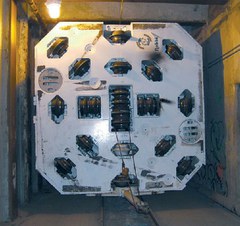 The Robbins machine will make twin 1.6 km (1.0 mi) long bores in Palisades hard rock to the Hoboken access shaft. Ground will consist primarily of diabase with some sandstone and siltstone at strengths of 125 to 300 MPa (18,100 to 43,500 psi) UCS.
The High Performance (HP) TBM will be mounted with 19-inch diameter cutters for decreased cutter changes and faster penetration rates in hard rock. The retractable TBM design will be similar to that of the Robbins Main Beam successfully used at New York's East Side Access project. Hydraulic side, roof, and cutterhead supports combined with a bolted cutterhead design will enable the TBM to be backed through the bored tunnel past temporary ground support.
Manufacturing will take place at the Robbins Solon, Ohio, USA facility, and the TBM will be shipped to the jobsite by early July 2011. Machine launch will take place in Autumn 2011 from a 90 m (300 ft) long pit at the North Bergen site.
New Jersey Transit's ARC Tunnels, when complete, will consist of parallel 5.8 km (3.6 mi) long tunnels passing under the Hudson River and terminating in Manhattan near the existing Penn Station. Separate contracts were tendered for soft ground tunneling below the Hudson, as well as hard rock tunnels and cavern construction in Manhattan.
Due to go online in 2020, the USD $8.7 billion ARC tunnels comprise the largest transit infrastructure project under construction in the U.S. Once complete, the new rail line will double peak capacity of the metro system, which has not built a new trans-Hudson tunnel since 1910. Ridership between New York and New Jersey has quadrupled since 1984, and is forecast to double again over the next two decades.
Contact:
The Robbins Company
Brianna Home
29100 Hall Street
Solon, OH 44139, USA
PH.: 253.872.4484
E-Mail: homeb@robbinstbm.com
Internet: www.robbinstbm.com