New general manager for MidCoast Water
Ken Gouldthorp has been appointed the new general manager of MidCoast Water.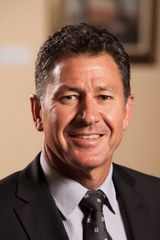 Chairperson, Cr Aled Hoggett announced the appointment following Tuesday's February board meeting at which the appointment was officially endorsed. The appointment followed a comprehensive recruitment process, Cr Hoggett explained. Mr Gouldthorp will commence on Monday 21 March however will visit the organisation in the coming week to meet staff and prepare for his commencement.
"I am delighted that such a large number of high quality candidates sought the role, coming from South Australia, Queensland, Victoria, Western Australia, Tasmania, New South Wales and the ACT," Cr Hoggett said. "A total of 34 applications were reduced to nine for interview and the board had quite a task in separating such an impressive field. "With the decision now taken the Board is looking to the future with great anticipation. Ken has an expertise in water management and his leadership and financial acumen will be a significant value to the organisation and the MidCoast community."
Mr Gouldthorp currently resides in Newcastle and most recently was the General Manager of Newcastle City Council. He has previously held positions including Chief Executive Officer at Toowoomba Regional Council, the Chief Operating Officer at Sunwater in Queensland, the Chief Executive Officer of Mackay City Council and the Director Corporate Services at Caboolture Shire Council.
Mr Gouldthorp has a Master of Commerce from the University of Queensland, he is a Graduate of the Australian Institute of Company Directors, a CPA, and has a Bachelor of Business from Curtin University. "At Newcastle Ken achieved a considerable improvement in that council's financial and workforce performance. While that council's situation is very different to ours we look forward to his working with our excellent staff at MidCoast to also achieve performance improvements," Cr Hoggett said.
"Ken impressed the interview panel with his obvious focus on staff leadership, financial management and strategic direction. His leadership skills, passion for local government and regional focus set him apart from other candidates." In accepting this significant career opportunity Mr Gouldthorp said he looked forward to working with the board and staff of MidCoast Water to continue to provide and improve on essential water and sewerage services.