New Fine Filler for the Repair of Screed and Concrete Floors
Emcefix floor is MC-Bauchemie's new cement-bound fine filler for fast yet long-lasting cosmetic refurbishment and repair of screed and concrete floors.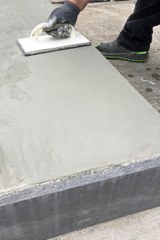 This new cosmetic and repair filler from MC-Bauchemie is ready to use after simply mixing it with water.
Yet its range of application is broad indeed: It is suitable for both small blemishes and major patching repairs on screed and concrete floors in layer thicknesses from 1 mm to 10 mm, as well as for the repair of steps, stairs, landings and plinths, spalling, cavities and blowholes in one pass with a layer thickness of up to 30 mm. Wall areas too can be filled and patched over large areas with this product.
Given its elevated mechanical properties – compressive strength >35 N/mm², flexural strength >6 N/mm² – it can also be used without reservation for surfaces accessible to foot or indeed forklift traffic. Emcefix floor is easy to apply and simple to smooth.
The fine filler hardens crack-free and extensively stress-free, enabling walk-on access of the repaired surfaces after just six hours*. Emcefix floor is currently available in concrete grey, with stone grey, medium grey and pale grey shortly to be included in the range.
* following application at 20 °C and 50 % relative humidity
About MC-Bauchemie
MC-Bauchemie Müller GmbH & Co. KG is a leading international manufacturer of building chemical products and technologies. Headquartered in Bottrop, Germany, the group of companies with over 2,500 employees operating in more than 40 countries around the world has – in the 55-plus years of its existence – consistently made a name for itself through the development of advanced solutions for the treatment of concrete and the protection and maintenance of buildings and structures.