New Ditch Witch RT24 Trencher Released
New RT24 compact trencher offers exceptional trenching power, optional heavy-duty tracks and optional Roto Witch® boring capability.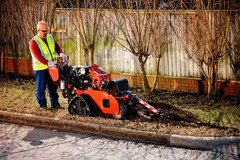 The Ditch Witch
®
organization announces the release of the new RT24, a fully hydrostatic, 22.3-hp (16.5 kW) trencher that offers all of the classic Ditch Witch equipment features-power, compact size, durability, easy operation and maneuverability-plus two exclusive optional features that can significantly improve productivity.
Electrical, plumbing, and landscape contractors are among the underground construction professionals who will benefit from the RT24's trenching efficiency. The RT24 [
http://www.ditchwitch.com/trenchers-plows/walk-behind/RT24-trencher
] is designed with more weight on the digging chain, so it can put more product in the ground faster, and its trenching capacities of 48 inches (122 cm) deep and eight inches (20 cm) wide enable a contractor to install a wide variety of utilities and irrigation systems. When digging conditions get tougher, the RT24's chain speed can be adjusted by substituting a 10-tooth sprocket for the standard 12-tooth.
Maneuvering in and around jobsites is made easier by the RT24's hydraulic, skid-steer-style steering and high-flotation tires, which provide stability and traction when traveling through rough terrain, across trenches, and over curbs. For added stability and traction, the RT24 can be equipped with heavy-duty tracks that "walk" or oscillate 12 degrees. A special trail wheel that supports the oscillating tracks helps reduce breakover and increase stability over uneven and rough terrain.
The RT24 [
http://www.ditchwitch.com/trenchers-plows/walk-behind/RT24-trencher
] is the only trencher in its horsepower class to offer not only a track option but also optional boring capability. With the company's Roto Witch
®
[
www.ditchwitch.com/compact-utility/attachments
] boring attachment, the RT24 helps contractors install utilities beneath driveways, sidewalks and other surface improvements with minimal turf disturbance.
Another option that saves contractors time and effort is a specially designed backfill blade that eliminates the need for shovels and manual labor.
For all of the RT24's many features and options, the machine is easy to operate even for the inexperienced contractor. The RT24's hand controls are designed simply-one hand for mobiling, two hands for trenching-and all controls, including the engine throttle, are grouped conveniently at the operator's station.
Contact:
The Charles Machine Works, Inc.
Manufacturer of Ditch Witch and Subsite Electronic Products
P.O. Box 66
Perry, OK - USA 73077
PH.: 580-336-4402
FAX: 580-572-5823
E-Mail: info@ditchwitch.com
Internet: www.ditchwitch.com