New Ditch Witch 830R/T High-Frequency Locating System Released
The new Ditch Witch® 830R/T high-frequency electronic locating system is designed to provide best-in-class performance at a very high active frequency.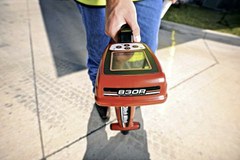 The Ditch Witch
®
organization announces the release of its new 830R/T high-frequency electronic locating system: The 830R/T (receiver/transmitter) system is designed to provide best performance at a high active frequency. One advantage of a high-frequency locator is its ability to trace poor conductors, such as ungrounded tracer wire, and locate short lengths of utility infrastructure better than low-frequency units.
Numerous automatic features -such as gain control, auto depth, and visual and audio feedback- make the 830R/T easy for even novice operators to confidently identify and trace metallic pipe or cable, water, and gas distribution lines.
The ruggedly built, construction-grade 830R/T system has an IP65 environmental rating, so it can stand up to the rigors of the construction site and the toughest weather conditions. On-the-job dependability is further enhanced by the system's long battery life: 150 hours on the transmitter, 75 hours on the receiver.
Adaptive filtering, one of the system's many industry-exclusive features, ensures that the 830R/T is highly responsive in all modes of operation, providing left-to-right guidance very quickly regardless of mode or operator style. In PV (Peak Verify) mode, another exclusive feature, the 830R/T system gives operators an additional way to confidently verify the locate.
For more information about the new 830R/T electronic locating system, please call our hotline or visit our homepage.
The Charles Machine Works, Inc.
P.O. Box 66
Perry, OK
USA 73077
tel 800-654-6481
fax 580-572-5823  
www.ditchwitch.com
info@ditchwitch.com