New district heating lines for Business Park Hannover-Nord - An unconventional solution
With a combination of pipe-ramming and horizontal direction drilling, Meyder GmbH Kanal und Tiefbau has laid two district heating lines beneath Vahrenwalder Strasse on the Hannover-Langenhagen city boundary on behalf of Stadtwerke Hannover AG, Hannover's public utility company. The unconventional drilling strategy for the construction projectthat supplies district heating to Business Park Hannover-Nord was developedand put forward by the contractor together with Emunds+Staudinger GmbH.

On completion of the pilot bore holes with an E+S BPU 800 pipe-ramming unit working on the displacement principle, the roughly 90 meter long hole was widened and the product pipes inserted with a horizontal directional drilling (HDD) system from REVOR Reuschenbach-Vorwerk GmbH. With great success, as drilling proceeded smoothly throughout and was completed within the given deadline to the client's complete satisfaction.
"Since Vahrenwalder Strasse was much busier than usual with streetcar, car and truck traffic during the Soccer World Cup hosted in Germany, we opted for a trenchless process," recalls Dipl.-Ing. Jürgen Winkelhane, Stadtwerke Hannover AG.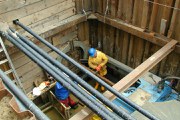 In the light of previous projects and experience with conventional HDD processes – the streetcar contact lines, among other things, had to be periodically de-energized during the measurement and location work – a number of system variants were critically analysed. The materials involved were also appraised. "As the HDPE casing tube of the envisaged profile with a nominal width of 250 mm might have been damaged during classical HDD, we decided in favor of a special proposal made by the contractor," Winkelhane continues. This entailed drilling beneath the six-lane junction between Vahrenwalder Strasse and Industrieweg using two different processes.

A perfect combination
Selected was a combination of pilot boring with a pipe-ramming system and the subsequent installation of the product pipe with a HDD unit. A perfect solution for the laying of two district heating lines which had to be rammed at a clear distance of only 80 cm and a gradient of only 0.05% over a length of 89 meters. This method was developed jointly with Frank Görke, Product Manager Horizontal Drilling, Emunds+Staudinger GmbH. The pilot bores were implemented with an E+S BPU 800 pipe-ramming system without bentonite on the displacement principle. "The unit has a torque of 30,000 Nm and a thrust of 132 metric tons," says Görke, outlining the performance features of the pipe-ramming unit.

An optical measuring system with a theodolite is used for guiding the pilot bore. "Thanks largely to this process, the pilot bore reached its target within the prescribed tolerance of ± 2 cm," Görke continues. After installation of the HDD rods with the pipe-ramming unit, the bore was widened to the demanded size with the HDD unit. Then the product pipes laid out on a specially produced 70 m long ramp were inserted in the bore holes.
Media contact:
Thomas Martin Kommunikation
Thomas Martin
Lise-Meitner-Straße 5-9
42119 Wuppertal
Tel.:+49 (0) 202/69 574 995
Fax: +49 (0) 202/69 574 998
Email:tmartin@tmkom.de
Web:http://www.tmkom.de
Contact
Emunds und Staudinger GmbH
41836 Hückelhoven - Baal
Phone:
+49 (0) 2433 / 453-0
Fax:
+49 (0) 2433 / 453-100
E-Mail:
office@es-verbau.com
Internet:
To website