New DIN standards for water pressure pipes recognise PP-RCT
During 2006, the German standards for polypropylene (PP) pressure pipes have been revised. The designations PP-H100, PP-B80 and PP-R80 have been withdrawn as they did not reflect the required behaviour at elevated temperatures and were changed to PP-H, PP-B and PP-R. Also, pioneering PP-RCT has now been officially recognised as a category under the new German standards DIN 8077 and DIN 8078 for PP pressure pipes. The creation of a new PP-RCT class means that these solutions can now be tested according to a widely accepted quality standard.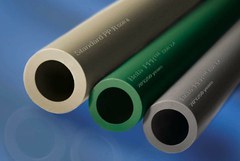 According to EN ISO 1043 designations, PP-RCT is a PP random copolymer with special crystalline structure. This structure gives improved pressure resistance particularly at elevated temperatures, offering more than a 50% improvement in long-term strength at 70°C over 50 years compared to standard PP-R materials. As a result, pipes based on this material can be produced with thinner walls thus with a larger internal pipe diameter, delivering a range of benefits to the plumbing industry and homeowners.
A wider internal diameter gives pipes a higher hydraulic capacity, thus benefiting systems distributing large volumes of water, such as in high-rise buildings. The capacity increase can also serve to overcome the problem of low water pressure from a supply network.
Environmental and cost-saving advantages can be generated for both extruders and installers. Thinner wall pipes allow for higher extrusion speed with reduced material usage, while a higher percentage of smaller pipes leads to smaller insulation, fittings and faster installation times.
Furthermore, the reduction in weight which can be achieved with PP-RCT eases transportation and handling for the plumbing industry.
Borealis is the first company to offer this new solution, marketed under the trade name Beta-PPR, to pipe and fitting producers worldwide who are focusing on quality and are looking for clearly identified and specified resins. Beta-PPR is produced according to the highest industry standards and satisfies all key European drinking water regulations.
Further information:
Borealis AG
Borealis Head Office
IZD Tower
Wagramerstraße 17–19
1220 Vienna
Austria
Tel: +43 (0) 122 4000
Fax: +43 (0) 122 400 333
Web: www.borealisgroup.com
Email: info@borealisgroup.com