New Delhi selects Veolia Water to build and operate a new wastewater treatment plant
The City of New Delhi has just contracted Veolia Water to build and operate the new Nilothi Wastewater Treatment Plant serving the city's western sector. Construction will begin in the next few weeks on this plant designed to be fully energy self-sufficient.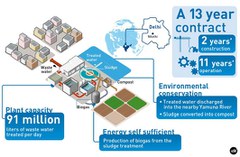 The Indian public authority in charge of water and wastewater services in the capital New Delhi has signed a contract with Veolia Water to design, build and operate an innovative wastewater treatment plant with a capacity of 91 million liters/day.
This 13-year contract covers an initial two-year construction phase followed by an 11-year operation and maintenance phase. The contract is worth cumulative total revenue of 40 million euros.
An energy self-sufficient plant
The plant will boost the capital's wastewater treatment capacity at a time when the development of the city, which already shows the country's highest population growth rate (26.4% increase from 2001 to 2011), is accelerating.
Veolia Water's treatment solution will ensure New Delhi has a plant that complies with the best international treatment and discharge standards and is entirely energy self-sufficient. The wastewater treatment used by Veolia Water will ensure the recovery of energy from the biogas produced by the sludge treatment process (digestion stage). This innovation will reduce the Nilothi wastewater service's environmental footprint and also cut its energy bill.
The treatment sludge will be recovered in the form of highly standardized compost for use by the region's farmers. The treated wastewater will be discharged into the Yamuna River without any impact on the natural environment.
With this second public-private partnership contract signed with the Indian capital, Veolia Water confirms its growth in India, just several months after being awarded the country's first public-private partnership contract for the outsourced management of the city of Nagpur's entire drinking water service.
Jean-Michel Herrewyn
Chief Executive Officer of Veolia Water

« New Delhi's decision is confirmation that the solutions put forward by Veolia Water in a region of strong growth like India are the right ones. We have managed to customize our models to incorporate the requirements of environmental and social responsibility, energy recovery and ecological footprint. These notions are now fundamental to ensuring sustainable growth. »