New Certifications: Emcefix Floor Confirmed Resistant to De-icing Salts and as an R3 Mortar per EN 1504-3
In 2019, MC-Bauchemie launched Emcefix floor, a new cement-bound fine filler for the cosmetic retouching and durable repair of screed and concrete floors. It is classified as an R3 mortar in accordance with EN 1504 Part 3. It is therefore also suitable for the repair of structurally relevant areas and exhibits high resistance to freeze-thaw cycling and de-icing salts – attributes that have been recently confirmed in a series of tests.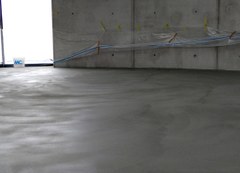 Suitable for use both indoors and out, the fine filler thus offers a unique selling proposition in the marketplace. The recent test certificates underline the quality as well as the extensive application possibilities of Emcefix floor.
The fine filler combines durable repairs with attractive aesthetics. With its resistance to freeze-thaw cycling and de-icing salts confirmed, it can also be reliably used in outdoor areas.
It is suitable for both small blemishes and major patching repairs on screed and concrete floors in layer thicknesses from 1 mm to 10 mm, as well as for the repair of steps, stairs and landings, spalled areas, cavities and blowholes in one pass with a layer thickness of up to 30 mm. Walls too can be filled and patched over large areas with this product.
Given its impressive mechanical properties – compressive strength >35 N/mm² and flexural strength >6 N/mm² – it can also be used without reservation for surfaces accessible to both foot and forklift traffic.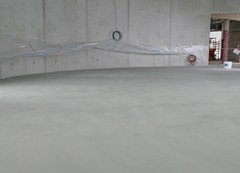 This all-rounder for the repair of screed and concrete floors is easy to apply and simple to smooth. Emcefix floor hardens crack- and stress-free while also enabling walk-on access of the repaired surfaces after just six hours*.
The fine filler rounds off MC-Bauchemie's concrete cosmetics product portfolio and is available in the colours concrete grey, medium grey and dark grey. These alone are sufficient to cover a wide range of concrete shades. However, the products can also be blended to match a specific substrate grey.
* following application at 20 °C and 50 % relative humidity
Contact
MC-Bauchemie Müller GmbH & Co. KG
Saki M. Moysidis
Marketing & Communication
Am Kruppwald 1-8
46238 Bottrop
Germany
Phone:
+49 2041 101 640
Fax:
+49 2041 101 688
E-Mail:
saki.moysidis@mc-bauchemie.de
Internet:
To website