NDS Partners with Hydro BG to Offer Fiber-Reinforced Concrete Trench Drain for Heavy Commercial Applications
NDS-Hydro BG partnership enhances NDS's product line of durable solutions for sheet-flow drainage in applications ranging from light foot to heavy vehicular traffic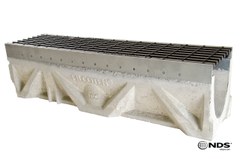 NDS, Inc., a leading provider of stormwater management solutions for both residential and commercial applications, today announced a new partnership with Hydro BG that adds the Filcoten® brand of fiber-reinforced concrete trench drain to its product offerings. NDS will be the preferred provider of Filcoten trench drains in the U.S., and they will be marketed as "Filcoten by NDS."
Filcoten is a high-performance, fiber-reinforced concrete trench drain system that is designed to handle heavy loads (up to Class E) in pre-sloped and neutral configurations. It is designed for heavy commercial applications, including airports, highways, rail stations, pedestrian road crossings and other transportation infrastructure, and industrial sites such as factories, warehouses and garages.
"Filcoten trench drains are an outstanding addition to our already extensive line of stormwater products that are easy to specify, easy to install and engineered for high performance and durability," said Mike Gummeson, president of NDS. "With Filcoten, we are expanding the number of proven and flexible NDS alternatives to traditional concrete drains for civil engineers, landscape architects, specifiers and contractors."
Compared to similar products, Filcoten is stronger with a high level of impact resistance that make it less susceptible to cracking and breaking during transport and installation; durable and resistant to changes in temperature and exposure to ultraviolet (UV) radiation, and is non-flammable and non-combustible; and environmentally friendly, made with 100 percent recyclable and no volatile organic compounds (VOCs) and no heavy metals.
Filcoten by NDS trench drains are available in multiple sizes; rail choices include stainless steel, cast iron and galvanized steel. To view specification sheets, computer-assisted design (CAD) details, product brochures and sell sheets, click here.
For sheet-flow drainage in applications ranging from light foot to heavy vehicular traffic, NDS channel and trench drains include:
Micro Channel Drains: Designed for residential applications including swimming pools, spas and patios
Mini Channel Drains: Excellent for light-duty applications including residential pools, concrete and paver patios, spas and tennis courts
Spee-D Channel Drains: Ideal for commercial or residential applications. Effective in everything from patios to light vehicular traffic areas
Pro Series Channel Drains: Lightweight channel drain system with interlocking joints and modular design offers flexibility and quick, easy connections
Dura Slope Trench Drains: Pre-sloped and neutral trench drain system provides a solution for residential, commercial, industrial and municipal drainage needs
Filcoten Trench Drains: High-performance, fiber-reinforced, concrete trench drain system designed to handle heavy loads in pre-sloped and neutral configurations
Contact
Gabriel Marketing Group
Michiko Morales
8200 Greensboro Drive, Ste. 403
22102 McLean
United States
Phone:
+1 571-455-9996
E-Mail:
info@gabrielmarketing.com
Internet:
To website