MyTana Releases New LD40 Auditory Pipeline Leak Detector
MyTana, a manufacturer and distributor of cleaning, maintenance and inspection tools for the plumber and drain cleaning markets, has released the new LD40 Leak Detector.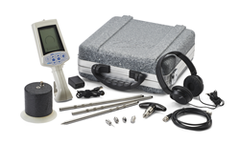 The uni-directional sensor filters out environmental noise to easily detect hissing, trickling or seeping noises from leaking pipelines. Four interchangeable sensor tips simplify detecting for different surface textures including through carpet.
The digital display features an instantaneous, easy-to-understand visual response meter, enabling operators to listen and watch for leaks. 
"We strive to create products that are easier for our customers to use," says Brent Hill, general manager for MyTana. "Visual displays on competing products feature delays between auditory and visual feedback, requiring the operator to mentally adjust for that mismatch. Our display provides a completely live feed, matching the auditory feedback to the visual."
The LD40 Leak Detector is now available for purchase from MyTana through its website or by phone.
About MyTana Manufacturing 
St. Paul, Minnesota-based MyTana is a full-service manufacturer of drain cleaning and inspection equipment, including cable machines, drain jetters and plumber cameras. The company also offers cables, blades, nozzles and other accessories for plumbers and drain cleaners. By selling direct, MyTana is able to maintain competitive pricing while offering a high level of personalized service and support.
Contact
MyTana Manufacturing
746 Selby Ave
MN 55104 St. Paul
United States
Phone:
+1 800-328-8170
Fax:
+1 651-222-1739
E-Mail:
mytana@mytana.com
Internet:
To website