Municipalities require multi-billion Euro infrastructure investments.
The use of plastic materials for repair and replacement of sewer inspection chambers is rapidly increasing in popularity. The reason for utilising plastic materials in place of traditional concrete products is because modern plastics offer superior performance characteristics in typical sewer environments. Nearly one third of the existing inspection chambers are defective and of about 9 million manholes in Germany approximately 2,7 to 4,5 million are in need of rehabilitation. "There will be a great need for investments in the next few years", says Heiko Leihbecher from REHAU.

The German Association for water, waste water and waste (DWA) anticipates medium-term reconstruction and rehabilitation costs of 50 to 55 billion Euro.
For new infrastructure investments  municipalities can take advantage of modern materials to avoid the failures and maintenance issues associated with the previously used traditional materials.
Typical failures were analysed and materials and designs were modified so that similar failures will be eliminated in the future.
REHAU has added its newly developed AWASCHACHT DN 1000 to its pipe system AWADUKT PP SN 10 Rausisto in order to offer municipalities superior performance in their sewer systems. The development of AWASCHACHT DN 1000 utilized REHAU's expertise with the superior performance characteristics of Polypropylene (PP) which is used in pipe and moulding production.
The inspection chamber design is based on a modular system consisting of an injection moulded cone, bottom and top ring. (picture 1)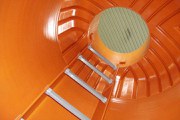 Superior Performance with Modern Materials
Since the components are completely made of polypropylene, the typical failure modes associated with concrete inspection chambers do not occur. The "Landesgewerbeanstalt" LGA Nuremberg has certified the solid-walled AWADUKT PP-high load sewer pipe system for a  100 year service life. The AWASCHACHT construction is reinforced by profile wall construction for added strength and stiffness. The profile wall design prevents floatation of chambers due to buoyance and provides a ring stiffness in excess of the 2,0 kN/m² which is required by prEN 13598-2.
The structural design of AWASCHACHT cone is verified by the LGA Nuremberg FEM-calculation (Finite Element Method). The vertically arranged profiles in the vault structure increase the resistance to axial loading angular impulse so that the chambers can withstand  SLW 60 loading, which is equivalent to a wheel load of ten tons.
In addition to the superior material properties and structural characteristics the new inspection chambers are significantly lighter than those made from traditional materials.  The lighter weight of these chambers allows municipalities and contractors to realise installation cost savings due to quicker installation with lower personnel and equipment cost.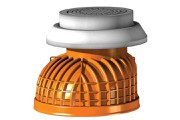 Inspection Chamber covers are designed to resist cyclicat traffic loads.
The typical failure modes for concrete manholes, which were identified by the DWA poll were carefully addressed by REHAU's design team. Frame and Cover defects represented 38% of inspection chamber deficiencies identified. To address this issue, the inspection chamber system has to be isolated from direct traffic loads. This is achieved by utilising a special lay-on frame, which distributes traffic loads into the ground and not directly onto the barrel of the inspection chamber, this design feature significantly prolongs the service life of the inspection chambers. Another advantage that both road users and residents appreciate: the covering remains on the same level with the pavement. The frame and cover system is designed to move with any pavement settlement or heaving thereby reducing another significant maintenance and repair cost associated with traditional chambers. Additionally, by remaining even with the pavement surface traffic noise is reduced and road safety is improved.
Resistance to cracking and leakage
The developers at REHAU have also taken into account another failure mode associated with traditional materials, specifically, cracks, leaks and defective connections. "Here, polymeric materials have a great material-dependent advantage, as well", explains Leihbecher. The gasket DN 1000, installed in a special gasket chamber is isolated from all loads and provides the durable leak tight connection between the manhole components.
The gasket is extruded in two different shore hardnesses: The inner part is harder and therefore guarantees a tight fit in the gasket chamber. Due to the somewhat softer seal, the remaining components can perfectly fit together with relatively low insertion forces and provide a sealed system.

AWASCHACHT DN 1000: Leak proof design
For years, REHAU has gained experience in sealing pipe connections, e.g. with the high-pressure sewer pipe system AWADUKT PP SN 10 Rausisto. With the SL-sealing system (Safety-Lock), the gaskets are fixed in the socket, therefore accidental damage can be avoided. The manhole becomes a homogenous component of the sewer system and due to the uniform material a a consistantly long life span of the total sewer system is achieved.
Defective connections of traditional inspection chamber systems represent only 8% of the total failures, but their impact must not be underestimated. These types of failures allow unobstructed infiltration of ground water, or the discharge of waste water. A modern sewer system will be subjected to high-pressure cleaning, as well as potentially hot and aggressive effluents. The high quality polypropylene (PP) material used to produce the AWASCHACHT inspection chambers has an extremely low surface roughness and is extremely resistant to high pressure washing, and all common sewer effluents and temperatures. Waste water that is low in oxygen and contain sulphide develop biogenous sulphuric acid.  This situation is very common in sanitary sewer systems and the sulphuric acid generated is extremely aggressive and detrimental to any concrete components used.  Polypropylene (PP) is completely resistant to this typical sewer environmental condition.
Municipalities that utilise  modern plastic materials for their sewer systems (pipe and chambers) will benefit from both short and long term cost savings as well as extended service lives for their sewer systems.
Although not every manholes bears a financial risk for a city or a township, long-term costs that are caused by failures should also be considered whenever planning or designing new sewage systems.
Contact
REHAU AG + Co Business Unit Umwelttechnik
91058 Erlangen
Phone:
09131 92-5471
Fax:
09131 92 51 5471
E-Mail:
Abwassertechnik@REHAU.com