Middle Eastern Economies in Urgent Need for Underground Infrastructure Masterplanning
The Middle Eastern economies are in urgent need for a sustainable development of their underground infrastructure. The new to be built as well as the fast growing large cities in Saudi Arabia, Bahrain, UAE etc. do not have their own entrepreneurial basis yet to handle the upcoming tasks - planning competences, services, machinery and construction supervision have to be imported from abroad.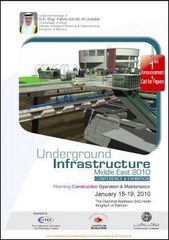 From 18-19 January 2010 the new "Underground Infrastructure Middle East" covers for the first time all aspects of underground infrastructures, ranging from tunnelling, sewer systems and gas and water distribution to district heating / cooling, power supply and telecommunication. On demand of the responsible ministries in Bahrain the focus of this first event will be on sewer systems.
The event is officially supported by ITA, International Tunnelling Association and GSTT, German Society for Trenchless Technology.
Interested companies are invited to deliver a speech or book a small booth at the accompanying exhibition. Visit
www.underground-infrastructure.com
for details.
Contact:
EITEP – Euro Institute for Information and Technology Transfer in Environmental Protection GmbH
Dennis Fandrich
Am Listholze 82
30177 Hannover
Tel.: +49 (0) 511 90992-22
Fax: +49 (0) 511 90992-69
E-Mail: fandrich@eitep.de
Internet: www.eitep.de

Contact
Euro Institute for Information and Technology Transfer in Environmental Protection GmbH (EITEP)
E-Mail:
fandrich@eitep.de
Internet:
To website